Posted on
Agriculture Minister wants to upgrade produce marketers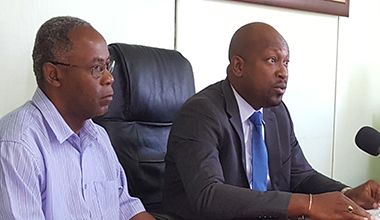 It is also the marketers' role to be able to pay the farmers on time and pay them a price that allows farmers to cover their cost of production and also make a profit.{{more}}
With this in mind, the Ministry of Agriculture, according to Minister Saboto Caesar, has done an analysis in which they have seen a shortfall in the human resource capacity of many of the marketers who market agriculture produce from St Vincent and the Grenadines.
"The issue of marketing and marketing of agriculture produce is a matter of critical importance…it is the intention of the Ministry of Agriculture in 2016 to ensure that the requisite capacity building programmes are put in place to facilitate training for marketers.
"We want to ensure that a cadre of young and enterprising marketers will be brought up to the fore to seek new markets for produce and utilize modern technology to ensure that the marketing intelligence required to be competitive is at the their fingertips," said Caesar on Monday, during a press conference at his office in Richmond Hill.
He said that while a farmer may grow the best banana and everything else is in place, if the marketer who goes to Trinidad and Tobago is not sufficiently armed with the marketing intelligence, then the price that they are able to obtain in Trinidad and Tobago and eventually pass on to the farmer will not be one that promotes business, thrift and industry.
"In fact, what you will have, is at some point in the chain, either the State will have to subsidize or the marketer will take the loss and if the marketer takes the loss, he will pass on a portion of that loss to someone and most times it is passed onto the farmer. We have to ensure that we bring a stop to this and that the impact of this is reduced to a number approaching zero," stressed Caesar.
The Agriculture Minister also said that in 2016, the Communications Unit of his Ministry is going to play a bigger role in the dissemination of information to farmers.
"It is very important that as we intend to increase production and productivity in 2016 that information gets to the farmers in a very timely manner," said Caesar.
He said over the years, the Ministry has kept in touch with farmers and he wants that to continue by working together with media houses, "to ensure we get the information out to farmers in a timely manner". (LC)