Posted on
Courts rewards lucky MABE product customers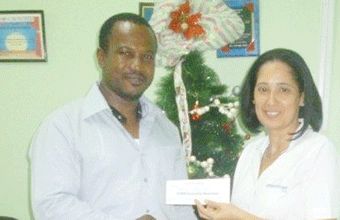 Twenty customers of Courts St Vincent Ltd had 700 reasons to smile recently as the furniture, electronics, appliance and eyewear provider rewarded them for their MABE purchases last year.{{more}}
During its MABE promotion, shoppers who bought a MABE product between November 28 and December 31 were eligible to win a $700 grocery voucher, compliments CK Greaves.
Last week, the 20 lucky shoppers received their vouchers from Courts commercial manager Lisa Veira and assistant commercial manager Indra Grant.
The 20 lucky winners are: Violet Patterson, Mavis Walters, Mischa Bengie, Natasha Anderson, Charlotte Robertson, Marcia Stapleton, Petronella Dickson, Judith George, Alana Franklyn, Sonny Shoy, Elthia George, Jim Codougan, Martina Cupid, Nikita Audain, Silvon Scott, Christopher Pollard, Coldrick Byron, Shirley Douglas, Kenrick Decoteau and Albena Lawrence.