Posted on
SVGCIC appeals for more small business membership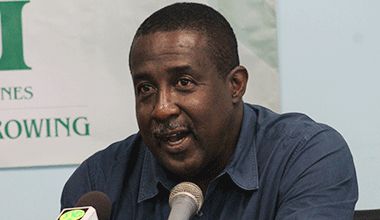 "If we are just islands onto ourselves then it makes it very difficult to gather pertinent data. But if more businesses became part of the Chamber, it would make that process a lot easier."
This, according to Anthony Regisford — executive director of the SVG Chamber of Industry and Commerce (SVGCIC) — as he made a nationwide appeal for more small business owners to join the organization.{{more}}
Refuting the perception that the SVGCIC doesn't welcome small businesses, Regisford said: "The more people we have in our membership, the more we can produce useful information on their performance; it's the more we can advise the necessary authorities as to what interventions can be made to impact the whole business climate positively."
He added: "If we are to have meaningful dialogue with the public sector with Government… with a business development agency, a donor agency, a grant-funding agency, if we are to have meaningful dialogue about development, we… need to have meaningful dialogue with members. And if the members do not represent large scale – the business demographics – then we [SVGCIC] are not speaking with authority are we? Nobody benefits from that."
Regisford acknowledged that many small businesses may not see the immediate benefits of joining the SVGCIC, but assured that one of the many benefits to being a member is receiving assistance and information that can help them to optimize profits.
He explained that many small businesses are operating under par, either through lack of business knowledge or through mismanagement of finances.
"A lot of small businesses are owned by one person… who do not understand the value of proper accounting. If you're not doing that, then you simply do not know how the business is performing. You have a gut feel, but you do not know for real what the business is doing… Your accounting information will inform your decisions in terms of whether a product is worth the while continuing, and whether your costing and price model is correct."
Regisford said that another common mistake made by small business owners is that they "skim out of the till".
"They're not separating the person from the business… It's a delicate balance obviously… We can understand why they need to go to where that pot of money is. However, for the sake of the business, if you treat the business as a separate organism that needs its own oxygen, its own food, its own care, as opposed to your needs, then you will better understand whether the business is a viable entity or what you need to do to make it a viable entity."
The executive director emphasized that these examples of issues that often afflict small businesses are ones which can be addressed by the SVGCIC to all its members.
"That's why we want small businesses to come and join us, so that we can help to facilitate them in better understanding how businesses should be structured and should be run."
Regisford said that the SVGCIC will also be conducting a lot of capacity building of large, medium and small businesses.
"Capacity building like training staff and management in areas of finance management, sales, marketing, human resource management – that sort of thing."
Diversity within the business sector in SVG
Whilst Regisford acknowledged that some business sectors are more saturated than others, he insisted that the SVGCIC's goal is not so much to tell business owners what sectors they should pursue, but rather to equip them in such a way that their businesses continue to improve.
"We can't be prescriptive. It's a free market; people are totally allowed to start any business they want to, once it's legal. If they feel they can do a better job than the other person, so be it… However, I would say that creativity is something we want to encourage. Creativity… in making a business differentiate itself even in a saturated market. Once you have differentiators, then you give yourself a competitive edge."
Regisford said that the SVGCIC also encourages creativity in terms of the different types of businesses.
"If you want to move out of a saturated field and look at new businesses – small or big – it calls for creativity. It also calls for people understanding what opportunities that there are."
He added: "We would like to create the environment where we get people to think about these things. That's all we can do – create the environment where we get people to start doing more creative thinking!" (JSV)