Posted on
Vincentian, Jamaican nationals top Gala Awards 2015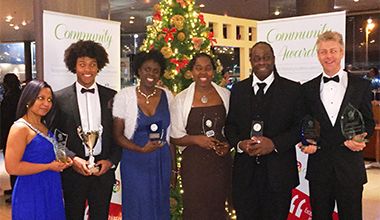 Belfast, NORTHERN IRELAND: Registered charity – African Caribbean Support Organization Northern Ireland (ACSONI) held a Christmas Gala awards event at the Belfast Hilton to honour those individuals and organizations from Africa and the Caribbean that have made an outstanding contribution to the community and wider society in Northern Ireland.{{more}}
ACSONI's executive and leaders of the African and Caribbean National Associations created 13 different awards, compiling a nomination list for each category, for the public to vote online and through all social media formats.
Eight of the 13 different categories were won (see list below) by the Caribbean, specifically St Vincent and the Grenadines (SVG) and Jamaica.     
Best African or Caribbean Diaspora Group Award – Association of Caribbean Nationals (ACAN)
Best Cause/Project Award – One Love Production
Business Award – Rainbow Story Telling and Dramatics
Citizenship/Impact Award – Dr Christopher Stange (SVG Consulate)
Community Long Service Award – Dr Christopher Stange (SVG Consulate)
Intercultural Arts Award – Raquel McKee
Sports and Leisure Award – Leo Brown
Volunteer Award – Judite Pina.
Sponsors of the awards included Community Relations Council of Northern Ireland, Belfast City Council, Policing Community and Safety Partnership, Cloud 9 Studios, LCDI Ltd, AIVCNI, Craic NI, African Caribbean Chamber of Commerce and Enterprise Northern Ireland, African Caribbean Forum and ACSONI.
Dr Christopher Stange of the SVG Consulate commented: "I would like to take this opportunity to commend ACSONI for hosting such a spectacular event to officially recognize those in the community that are positively contributing to society and their respective countries. It never ceases to amaze me the positive contributions that come from the Caribbean, for such a small region, the direct impact we have locally, regionally and internationally."