Posted on
Protests over election results may accelerate NDP demise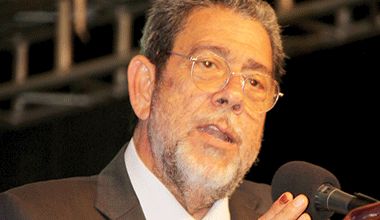 The New Democratic Party (NDP) has been warned that continued protest action and failure to accept the results of the December 9 General Elections may result in the party's accelerated political demise and, "a veritable political oblivion."{{more}}
Speaking on Monday at Heritage Square in Kingstown, where the Cabinet of Ministers was sworn in, Prime Minister Dr Ralph Gonsalves urged the NDP and its leadership to pursue the correct path if they have a dispute.
"There is only one place for the adjudication of complaints about an election and that place is the court of law, not the streets," said the Prime Minister on Monday.
Since the Unity Labour Party (ULP) was announced winner of the General Elections on December 9, the NDP has staged a number of protests in and around Kingstown while the ULP, the supervisor of elections Sylvia Findlay and the Electoral Office have come under repeated verbal attacks and accusations of wrongdoing.
But Gonsalves said on Monday that while it is inevitable that competitive democratic politics engenders political partisanship, such partisanship must be kept within reasonable limits and be seasoned by mature reflection and action.
"It should not degenerate into naked divisiveness and dog eat dog impulse. Intolerance, bile and hatred have no part to play in the mature competitive politics of our Caribbean civilization," stressed Gonsalves, who told the gathering that the ULP's electoral triumph must not in any way engender a sense of triumphalism.
"We ought to recognize that the ecstasy of victory should be tempered by the realization that St Vincent and the Grenadines belongs to all of us, whatever our respective political party affiliations."
Gonsalves, whose ULP has been re-elected for a fourth consecutive term, believes that unrestrained personal agendas, raw ambition, and the refusal to accept the election results constitute a combustible mix, if directed by irresponsible men and women.
The veteran political leader, known for his aggressive political nature, has throughout his life been involved in protest action and in 2000 staged successful protests that led to the premature end of the Sir James Mitchell led NDP government and elections in 2001 that saw the ULP elected to Government for the first time. (LC)