Posted on
Fourth term victory a 'Mount Everest of politics' – Gonsalves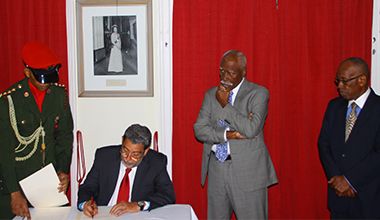 Dr Ralph Gonsalves has described his fourth consecutive time being elected as prime minister as the "Mount Everest of politics."
"Many men and women have sought to scale those heights, but only few have reached that top…," Gonsalves said on Thursday, December 10, after taking the Oath of Office as Prime Minister and the Oath of Secrecy at Government House.{{more}}
The oath was administered by Governor General Sir Frederick Ballantyne.
In his address, Gonsalves said the way the electorate conducted themselves on Election Day is tribute to our civilization.
"I don't think anyone could find fault in the manner in which we carried about the business of the free people, selecting freely and fairly, the government of their choice to manage, to govern the country and the democratic institutions for which we have been put in charge."
He made his remarks before an intimate gathering of family, Unity Labour Party (ULP) candidates and their relatives, government officials and the media.
However, Gonsalves said he regretted that some persons, who having lost the December 9 elections, refused to accept the loss.
"I am a practising politician for many years… and I really watched it first-hand and I've studied it and I know it is extraordinarily difficult for individuals and a party to be in opposition for 20 years. Some in exactitude, but nevertheless with some humorous accuracy say that it's an equivalent of a long jail term. Not an easy business being in opposition for such a long period of time.
"And I often say, if one finds Government to be challenging and difficult, I simply ask them to try Opposition. So, I fully appreciate the pain and anguish of those who have been defeated, who have lost, but that is no excuse not to play by the rules of the game. And as the young men on the block say, 'you simply wheel and come again'," Gonsalves stated.
He added that his party ran an uplifting campaign and noted that he is not all surprised they were victorious in the elections.
"It is absolutely remarkable that we have won a fourth consecutive term with an increased plurality of votes. We got more votes absolutely and percentage wise than the last occasion. I do not know of any fourth consecutive term that that has happened and in that sense it is unprecedented. And the people simply decided that they did not want a change of government," he said.
Additionally, Gonsalves said this country has democratic elections with the sense of equality on polling day and that every vote has the same value.
"And for anyone or any group to seek to undermine with language or take any action designed to undermine, subvert or defeat the peoples' will, which is sacred, that such persons display that which is less worthy within us, and I am asking that those who are on that path to correct that path…."
Gonsalves, 69, expressed thanks to the leader of the New Democratic Party (NDP) Arnhim Eustace and his team, the Democratic Republican Party (DRP) and the Green Party for being part of the electoral process.
He further thanked the supervisor of elections Sylvia Findlay and her staff for conducting "free and fair" elections.
Gonsalves congratulated his successful candidates and those who lost, he congratulated them for gaining ground and performing well at the polls.
Sharing brief remarks, Sir Frederick Ballantyne called for calm among Vincentians during this time.
"Forgive those who have wronged you and forgive those who you think have wronged you…. So, I am asking for forgiveness for all of us. I am asking for much love for the Christmas season… I will like to appeal for calm, especially in these next few days, it's going to be very edgy, but in the final analysis, if there are issues to be dealt with, they will be dealt with by the court and not by individuals displaying animosity towards one another or harm one another," Ballantyne said.(KW)