Posted on
St James medical students volunteer time to WPP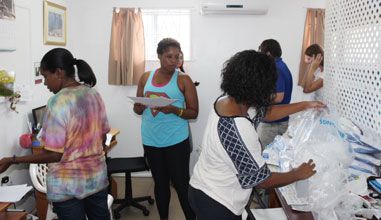 The local office of the World Pediatric Project (WPP) is receiving more assistance from medical students, who are enthusiastic about helping the organization in its quest to heal children and change the world.{{more}}
Pete Haftkowycz, Samantha Scoville, Jessica Udeogu and Helena Steffen, first and second year students of the St James School of Medicine, say that working with WPP SVG not only helps them to better understand their chosen profession, but it also gives them the opportunity to play a part in the transformation of lives.
Many of the students were involved in the most recent WPP mission to St Vincent and the Grenadines last month, when a seven-member team of scoliosis specialists gave assistance to more than 70 young patients from St Vincent and the Grenadines and other countries in the OECS and Barbados, at the Milton Cato Memorial Hospital.
Students from all medical schools were also given a special lecture.
Following the mission, students converged at the WPP office at Bentick Square in Kingstown, where they undertook the task of completing an inventory of the items remaining from the mission, and repacked items in their respective locations.
The American students indicated that the experience working with seasoned professionals was an awesome one, and that they looked forward to continue working with other visiting missions and the World Pediatric Project.
The next paediatric mission is expected to visit these shores on January 9, where they would be conducting paediatric general surgery.
The WPP has been operating in St Vincent and the Grenadines since 2002, when the programme was introduced to this country by the Rotary Club South, under the name International Children's Hospital.
To date the project has screened thousands of Vincentian and Caribbean children, and has performed procedures on hundreds more, here in St Vincent and the Grenadines and in the United States.