Posted on
PM calls on opposition supporters to remain peaceful, calm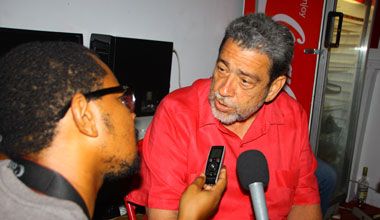 Supporters of the New Democratic Party (NDP) have been called on to be peaceful and calm following the results of the 2015 General Elections here.{{more}}
The call has come from political leader of the Unity Labour Party (ULP) Dr Ralph Gonsalves, whose regime was returned to power with an 8-7 majority on Wednesday night, amidst rumours from the NDP of irregularities in Central Leeward.
"I would like to see that we celebrate this victory in maturity and in peace. We want to see a reconciliation among all our peoples and I would like to see very much we come together to address in a united way developmental challenges which face our country," said Gonsalves while sitting in a room at the ULP's East St George constituency office.
"I am calling on the NDP to accept with grace this defeat. I know it is difficult to be in opposition for 20 years," said the veteran politician.
Gonsalves said that 20 years is a generation and that for over a generation, the opposition NDP has been trying to "take down Ralph and the ULP and they have been unable to do so."
He added, "they should try tact now and let us work co-operatively. I want at the same time that while we have hold our hand out in collaboration, friendship and reconciliation, as Prime Minister, I will not tolerate any breach of peace in the country, so I want to make it plain that those who want to be hysterical and there will be some wild ones, to rethink their history and their wildness."
Gonsalves' calls, however, fell on deaf ears and on Thursday afternoon scores of NDP supporters blocked the road to Government House where a swearing in ceremony for the prime minister, deputy prime minister and the attorney general was scheduled to be held. The ceremony was subsequently postponed, pending the recount of votes in the Central Leeward and North Leeward constituencies.