Posted on
LIME unwraps Christmas along Leeward coast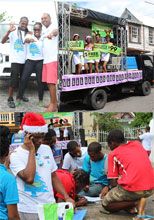 Last Saturday, November 28, was another memorable day for the LIME team, as they completed their first road show for the season. With the first stop in Layou, the LIME caravan made its way through every town on the Leeward end of the island, ending the show at Fitz-Hughes.{{more}}
LIME country manager Wayne Hull was a part of the caravan and expressed his pleasure at the responsiveness of the people he met.
"We were even more pleased with the hundreds of new customers who joined the LIME network, whether by switching or purchasing a handset for the first time. We welcome all to the LIME family."
Some of the deals that were made available were smartphones, as low as $99, free trade and the return of the famous double bubble. The free gift with purchase also met the approval of the many patrons on that day.
The LIME caravan not only consisted of LIME employees, but also LIME ambassador Delroy "Fireman" Hooper and models from the Image Modelling Agency. Nikala Williams, LIME's marketing manager, encourages the Windward side of the island to "look out for the LIME caravan, as we will be coming to your town soon with the unbeatable deals for the season."