Posted on
Digicel gives you 150,000 reasons to be merry this Christmas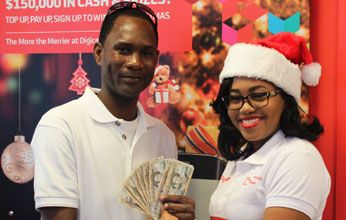 It's the merriest time of the Year. No other time of year has the power to bring cheer and most importantly make some merrier than at Christmas. This Christmas, Digicel will be adding joy and cheering up the lives of Vincentians with their fantastic Christmas Promotion dubbed "The More the Merrier."{{more}}
Building on "Community," one of our key pillars, this year's Christmas campaign will allow winners throughout St Vincent and the Grenadines to share in $150,000 in cash and prizes and to have their wish come true.
The lucky winners in St Vincent and the Grenadines will receive daily $1,000 in cash and one lucky customer will be granted their wish. Yes, Digicel will enable and encourage all to make a special effort to be a part of this Christmas campaign. Now just imagine the number of merry people all around!
"This is another innovative way that Digicel engages with its customers to thank and reward them for being a part of the Bigger, Better Network. Christmas is about sharing, and being able to share with loved ones in such a tangible way is very exciting and gratifying," said John Gidharry, Digicel's country manager.
Imagine being able to buy the gift you really want for a loved one. Imagine seeing the joy on their faces as they receive that gift; imagine the smiles that you will bring to that face all through Digicel's The More The Merrier Christmas campaign. Digicel will also be making Christmas merry for a series of communities and charitable organizations in St Vincent throughout the season with a wide variety of different initiatives.
To qualify for the daily prizes and to have your wish granted, customers must simply top up $10 or more and text your wish to 1130, each text cost $1; pay their postpaid bills in full and on time or join the Digicel family or activate a 2, 7 or 30-day data plan.
The More the Merrier with Digicel on December 24, 2015 will see five lucky customers receiving $5,000 each.