Posted on
CIBC FCIB donates to Lewis Punnett Home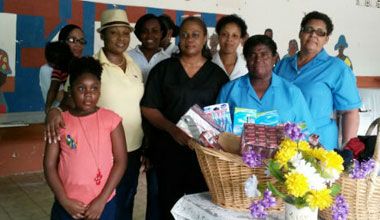 The staff of CIBC First Caribbean International Bank brought smiles to the faces of residents of the Lewis Punnett Home, with the donation of toiletries to the institution in October this year.{{more}}
As part of the bank's Adopt-A-Cause programme, the CIBC FCIB staff purchased, packaged and presented the items to the grateful inhabitants of the home for the elderly and disadvantaged, located at Glen.
The Adopt-A-Cause programme aims to foster staff volunteerism and community involvement, and is an annual ongoing exercise, which sees staff cleaning, painting, and building, among other community-based activities.
Staff will also be involved in the erection of a wall on the south side of the Thomas Saunders Secondary School, which would increase the safety and security of the faculty and students at the school. The staff will also be making a donation to the St Mary's Roman Catholic Primary School, towards the purchase of much needed science supplies.