Posted on
No mention of climate change in NDP manifesto – Gonsalves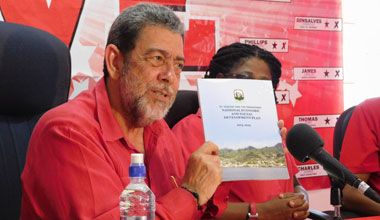 Unity Labour Party (ULP) candidate for the North Windward Constituency Dr Ralph Gonsalves has called out the New Democratic Party (NDP) for not mentioning anything about climate change in its manifesto.{{more}}
"Could you imagine you have a principal opposition party not even mentioning climate change? In the year 2015, in the same year that we are having COP 21 (the conference of parties in Paris) on the United Nation's Framework Convention on Climate Change."
Gonsalves, speaking at press conference on Monday at the ULP headquarters, said that climate change is an existential issue that the NDP is taking off the table.
"You have nothing on oceans? When we have 10,400 nautical square miles of sea space of seascape some 70 times our landscape and you have nothing on it?
"I mean are you serious? Are you really serious?" Gonsalves added, further stating "There are other things I can talk about, but I highlight those things which are in our manifesto which are absent from our principal opposition's manifesto."
Gonsalves disclosed that Minister of Health Clayton Burgin, former Minister of Health Douglas Slater and an official from the Ministry of Health and the Environment would be part of the delegation from St Vincent and the Grenadines heading to Paris for the meeting.
"We want to see a legally binding agreement coming out of COP 21," said Gonsalves.
"There are certain vital elements in it in which we must have."
Gonsalves said that the country needed money for climate change adaptation and mitigation.
"So, targets which are set which are legally binding and we have a mechanism to monitor them and we have monies apart from what ever bilateral monies in which we may negotiate, but binding sums which the emitters, the major emitters in the world can say well this is what we have put into the pot for mitigation and adaptation because you have to both have the adaptation and the mitigation."
Using Georgetown and Sandy Bay as examples, the ULP leader said comprehensive work has to be done on the entire east and west coastline because of the rate at which land is being lost.
"We are dealing with countries on a bilateral basis and we have listed monies which we have in the manifesto for coastal defence," he stated.
"We can tell you where we have monies for, who is providing those monies and the time period for the work to be done; it's not a guess, but these things we have been working on."
According to Gonsalves, his government has taken the leadership role in Small Islands Developing States (SIDS) DOCK.
"AOSIS (the alliance of small island states) is an advocacy group, but it doesn't have the machinery for the purposes of getting money to do things for mitigation and adaptation."
Gonsalves said at the last COP meeting, SIDS DOCK was put into the mix, but it wasn't given shape yet until recently.
"We were instrumental, St Vincent and the Grenadines, in ensuring that was given shape and it is now a body within the statutes of the United Nations.
"Don't be surprised that when we win the election if I am on a plane to Paris on the night of the 10th," Gonsalves said.(AS)