Posted on
ULP launches online version of 2015 manifesto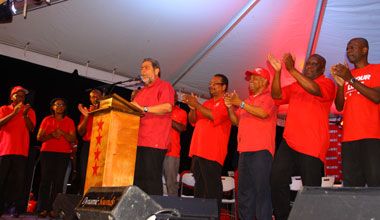 The ruling Unity Labour Party (ULP), on Saturday at a rally in Campden Park, launched the on-line version of its 2015 manifesto, which Prime Minister Dr Ralph Gonsalves has described as "our beautiful 20/20 vision with Labour love."
Gonsalves said the online edition of the document was the unabridged version, containing the detailed proposals, while the hard copy, which will be launched sometime this week, will be less detailed.{{more}}
"Tonight, what we are launching is the most comprehensive, the most detailed, the most compelling developmental programme ever offered by any political party at any election in the history of the Caribbean.
"There has been nothing like this and to beat what we have put online would require a very special Herculean effort," Gonsalves told the large gathering.
Gonsalves said the manifesto is based on the party's people-centred vision, their philosophy of social democracy applied to the circumstances in St Vincent and the Grenadines, along with the detailed policy and programmes to further uplift the country.
"This manifesto builds upon the manifestos of 2001, 2005 and 2010. It builds up on and takes its starting point from our 2013 development plan…," the Prime Minister said, in reference to the National Economic and Social Development Plan for 2013 to 2025, which was launched on October 25, 2013.
Gonsalves outlined some of what he said were the "major developmental policies" in the manifesto, including the formal opening of the Argyle International Airport (AIA).
"You have to make sure that the Comrade and ULP are there to finalize it, to cut the ribbon and to see the first big jet land down at AIA to go into the hotels."
The ULP political leader also referred to the modern acute referral hospital, to be built at proposed modern city in Arnos Vale, following the decommissioning of the ET Joshua Airport. He said the hospital will be linked with the Milton Cato Memorial Hospital (MCMH), which he said will be modernized.
Gonsalves also spoke of plans to relocate the container port to Rose Place and relocate and extend the cruise ship pier at Arnos Vale.
He said the geothermal project will bring 12 megawatts of power by the end of 2018 and make electricity between 15 and 25 per cent cheaper and make the economy more competitive.
Additionally, Gonsalves said there will be an expansion of the medical schools, where he said enrollment has grown from 250 to 1,000.
"Then, there's a special section in the manifesto on cultural industries and the sporting industry and the national stadium. And there would be tourism development. Already we have investors who are coming for Mt Wynne/Peter's Hope to build three hotels of between 1,200 and 1,500 rooms. And we have the flights to come with them – Karisma Hotel and Thomson Holidays out of the United Kingdom."
Gonsalves also told supporters that at Mt Wynne/Peter's Hope, works are in the pipeline with Canadian investors to build high-class villas to be built and sold to wealthy people.
He also spoke about expansion in the north of Canouan and in the south with a marina and real estate development in which the Government has shares.
"You can expect a large number of people additionally to be employed in Canouan. In Bequia, there are some hotels which have already started; some are expanding and others to come. Union Island and the 100 acres which we took back at Chatham Bay, there will be a hotel there. We have an investor already lined up for it.
"Similarly in Mayreau and at the Emerald Valley Casino Resort, which this government has bought and which we have a Guyanese investor to go with us. I want to tell you, all of what I have mentioned here, the investment over the next few years will come up to over US$700 million and Mt Wynne/Peter's Hope, it will be US$250 million. In Canouan, a further US$200 million, In Bequia, US$70 million, in Union Island US$150 million, in Mayreau US$40 million and Emerald Valley Casino Resort US$25 million," he explained.
Mention was also made of a proposed programme for the agriculture and fisheries industry, adding that the manufacturing sector has had an uptake because of the special incentives given to manufacturers, including all their raw materials to have duty-free concessions.
A pharmaceutical plant will also be built by a Guyanese investor, who he said has 250 pharmaceutical products, including Limacol and Ferrol Compound.
Gonsalves also discussed matters relating to road repairs throughout the country.
"You are going to see a road reconstruction programme, sea and river defences — the likes of which this country has never, ever seen. And you know when I promise you something, we always delivering it."
Gonsalves, who is seeking a fourth term in office, said his government will rebuild Kingstown, including Little Tokyo and China Town, noting that he already has the resources secured with the relevant agencies to carry out the work.
Matters on disaster preparedness and climate change are also highlighted in the ULP's manifesto. He added that Campden Park will be named the seventh city of the country.
"We are going to do it with the private sector and we are going to do it with the community to provide better localized services to lift the quality of life in the people of Lowmans right down to Chauncey and Rillan Hill. That is part of the plan for this government," Gonsalves said.
Gonsalves told listeners that since coming to office in 2001, his government has created 8,000 jobs, adding that with the projects and development that are on the horizon, they will do better than they have done in job creation.
According to the Prime Minister, this year, his government set up the wages council again, so that early in 2016, minimum wages will increase.
"We have increased it four times [in 15 years] and we are now having an actuarial study so that we can increase it again in 2016 for the people who have worked so hard and paid their contribution to the NIS," he said.