Posted on
43 candidates nominated to contest general election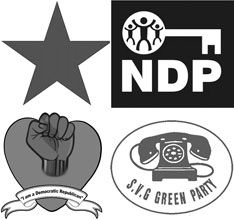 A press release from the electoral office of Saint Vincent and the Grenadines, issued on Saturday November 21, said that a total of 43 candidates representing four political parties were, on Friday, November 20, nominated as candidates for the December 9, 2015 General Elections.{{more}}
It was noted that the New Democratic Party (NDP) and the Unity Labour Party (ULP) each presented a full slate of 15 candidates. The Democratic Republican Party (DRP) had six candidates nominated, while there were seven candidates nominated for the SVG Green Party.
The ULP, which won the last general elections with eight seats, is being led by Dr Ralph Gonsalves, who has been nominated in the North Central Windward constituency. The NDP, which narrowly lost the 2010 elections with seven seats, is being led by Arnhim Eustace, who is contesting the East Kingstown seat.
The DRP is being led by Anesia Baptiste and the Green Party by Ivan O'Neal. Baptiste will contest the West St George seat, while O'Neal will run in South Windward.
The 43 candidates were each nominated by six persons registered to vote in the constituency they are contesting.
Following is the list of candidates and the constituencies in which they have been nominated:
NORTH WINDWARD
LAURON BAPTISTE – SANDY BAY,
FARMER, NDP
GEORGE BYRON – OVERLAND,
FARMER, DRP
MONTGOMERY DANIEL – SANDY BAY,
AGRICULTURIST, ULP
CHRISTIAN WALDRON, RATHO MILL,
BUILDER, GP
RALPH EVERARD GONSALVES -FRENCHES,
HARAN GRANT – BYERA,
POLITICIAN, DRP
KENROY JOHNSON – GEORGE-TOWN,
POLITICIAN, NDP
SOUTH CENTRAL WINDWARD
SABOTO S CAESAR – SANS SOUCI,
LAWYER, ULP
KENNETH HORNE – STUBBS,
MAINTENANCE, GP
ADDSION M THOMAS – SOUTH UNION, RESEARCH
OFFICER, NDP
SOUTH WINDWARD
NOEL DICKSON – STUBBS,
POLITICIAN, NDP
IVAN O'NEAL – HARMONY HALL,
POLITICIAN, GP
ALPHEUS F STEPHENSON – BRIDGETOWN,
MARRIAQUA
CURTIS BOWMAN – RICH-LAND PARK,
PHARMACIST, NDP
ST CLAIR PRINCE – RIVULET,
RETIRED, ULP
ADELLA SAMUEL – REDEMPTION SHARPES,
EAST ST GEORGE
CALVERT BAPTISTE – BELAIR,
TECHNICIAN, DRP
CAMILLO M GONSALVES – RATHO MILL,
LAWYER, ULP
LINTON A LEWIS – CANE HALL,
BARRISTER, NDP
KADMIEL MC FEE – CALDER,
ECONOMIST, GP
WEST ST GEORGE
ANESIA BAPTISTE – BELAIR,
POLITICIAN, DRP
JULIAN S FERDINAND – ARNOS VALE,
BUSINESSMAN, NDP
CECIL O MC KIE – ARNOS VALE,
MANAGER, ULP
EAST KINGSTOWN
LUKE R BROWNE – CANE GARDEN,
ECONOMIST, ULP
ARNHIM U EUSTACE – RATHO MILL,
ECONOMIST, NDP
KARIMA M PARRIS – ROSEAU,
SECRETARY, DRP
CENTRAL KINGSTOWN
MARSHA CARUTH – CALDER,
CARETAKER, GP
ST CLAIRE LEACOCK – DORSETSHIRE HILL,
MANAGEMENT CONSULTANT, NDP
WORLDSWORTH B PHILLIPS – NEW MONTROSE,
WEST KINGSTOWN
NATASHA BLACK – CALDER,
POLITICIAN, GP
DEBORAH CHARLES – LOW-MANS LEEWARD,
DANIEL E CUMMINGS – REDEMPTION SHARPES,
POLITICIAN ENGINEER, NDP
SOUTH LEEWARD
WENDEL PARRIS – LA CROIX,
SOCIAL WORKER, DRP
NIGEL STEPHENSON – QUESTELLES,
JOMO S THOMAS – CAMPDEN PARK,
LAWYER, ULP
CENTRAL LEEWARD
BENJAMIN EXETER – LAYOU,
LOUIS H STRAKER – LAYOU,
RETIRED, ULP
NORTH LEEWARD
CARLOS JAMES, CANE HALL,
LAWYER, ULP
ROLAND MATTHEWS, PETIT BORDEL,
BUSINESSMAN, NDP
NORTHERN GRENADINES
HERMAN LOUIS BELMAR – LA
POMPE, ENVIRONMENTALIST,
ULP
GODWIN LORRAINE FRIDAY – BEQUIA MT PLEASANT,
BEQUIA, BARRISTER, NDP
SOUTHERN GRENADINES
TERRANCE OLLIVIERRE – CLIFTON, UNION ISLAND,
POLITICIAN, NDP
EDWIN SNAGG – CLIFTON, UNION ISLAND,
BUSINESS-
MAN, ULP