Posted on
New health information system being implemented at MCMH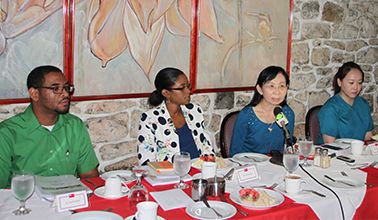 Medical officers from the Chunghua Christian Hospital (CCH) of Taiwan are presently in the state assisting with the implementation of a new health information system at the Milton Cato Memorial Hospital (MCMH).{{more}}
Director of Overseas Medical Mission for the CCH Dr Nina Kao, at a press briefing on Wednesday said for the past three weeks, an Information Technology (IT) expert from Taiwan has been assisting the MCMH IT department in the implementation of the project.
Lisa Llewellyn-Sprott, coordinator of the health information system, stated that since the health information system was launched in January 2010, seven modules, which are being used at hospitals, clinics and most recently the MCMH, have been implemented.
Llewellyn-Sprott also said that a barcode system for the laboratory information system is being implemented, which they hope will be followed by a radiology information system and other modules that are being used in Taiwan.
She further revealed that Dr Kao has been assisting them to implement modules that can improve the system currently being used.
So far, medical personnel have been on board with the health information system, also welcoming any additional assistance to improve the system.
Addressing the media briefing, Kao revealed that the CCH sends a team to St Vincent and the Grenadines every year to provide medical service and so far, 50 to 60 volunteers have visited.
In August this year, system administrator in the Ministry of Health Asquith Ballah visited the CCH IT department in Taiwan, with the objective of connecting the Taiwanese system with that of the MCMH.
During his visit, Ballah received short-term training.
"I personally saw it as a good opportunity to compare and contrast what we have here to what they have over at the Chunghua Christian Hospital," he said.
Ballah disclosed that the CCH possess thousands of modules, compared to the seven currently in use in SVG.
"We can't take all of those modules, but I see some that we could actually implement here in St Vincent that will improve the health information system… to provide better care to our clients."
According to Ballah, it is very difficult to implement a module, as it has to be developed, tested and then implemented. However, they are seeing progression.
The local modules include: electronic health records, admission discharge and transfer, pharmaceutical component, public health, laboratory, maternal/child health, HIV/AIDS module and the supply chain management module, which is the main module being used on a monthly basis.
However, the three modules to be focused on in 2016 are supply chain management, human resources module and the HIV/AIDS module.
The Ministry of Health aims to have these modules implemented in all public health facilities by December 2016.
Currently, the health information system includes a coordinator, systems administrator, database administrators and a systems analyst.
Kao stated that the Taiwanese would continue to sponsor the technicians from the IT department and medical staff for training.
The CCH is the fourth largest hospital in Taiwan with 3,500 beds and 60 IT experts. (AS)