Posted on
'Get ready to unwrap Christmas' with LIME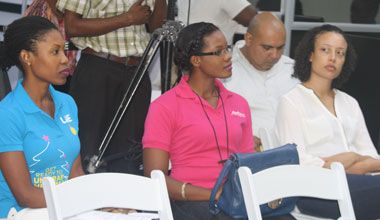 Free handsets, free credit and free event tickets are just part of what LIME is offering during its 2015 Christmas Promotion that is currently underway.{{more}}
Dubbed, 'Get ready to unwrap Christmas', the competition was launched last Friday, November 13 and according to marketing and corporate communications manager at LIME Nikala Williams, "More is always merrier" and that is what LIME is giving this Christmas, more.
The promotion, which boasts of multiple giveaways of cash and prizes is valued at EC$100,000 and will provide both post-paid and prepaid customers with great deals.
Explaining some of the deals during the launch of the promotion, which was held at LIME's main office on Halifax Street, country manager Wayne Hull noted that the wide range of offers will, for the next two months, drive "the value conversation of telecommunications services in St. Vincent and the Grenadines."
He revealed that every customer who does business with LIME can leave the store with a gift or even cash. Deals include giving prepaid customers who activate a 30-day data plan free talk time for LIME to LIME calls; persons will get a free gift for every handset purchase; EC$1,000 can be won through a Samsung J5 selfie competition; while persons can win tickets to shows like Hypnosis, Climax Cooler Fete, Kiddies Christmas and Fashion Caribbean. Persons can also win prizes from The Trend, CK Greaves, Courts SVG Ltd and Fine Things. Post-paid customers who activate a new plan will get a free Alcatel or Huawei handset and will also be offered the music application Deezer for 99 cents per month. The promotion also features monthly draws and an iPhone 6s launch. Persons who zero their balance will also get the opportunity to win a ham or turkey.
Williams also invited LIME's Christmas promotion partners to have a say during the promo launch. Anna Ellis of Fine Things said that two persons will win a room make-over from Fine Things, while persons who shop at the Arnos Vale store will get the opportunity to be entered in a draw for an EC$500 room make-over, which is separate from the ones that LIME is giving.
Karen Veira of the Climax Cooler Fete said that the event takes place on January 1 and could not be possible without LIME, while Garcia Cato of Fashion Caribbean said that the event will take place on November 28 at the Community College and LIME is giving away free tickets to the event.
Also, last Friday, LIME continued the launch of its Christmas activities with a live Christmas concert, which featured Classic Drummers from Rose Bank and the LIME Soca Dans. Hundreds of patrons were entertained by the singing of Christmas carols and Parang music.
Williams noted that customers were delighted, as they received various free gifts as they danced and sang along with the entertainers.
"Christmas is our favourite time of the year at LIME and we are especially excited to give back so much to our customers in not just prizes, but instant gifts, entertainment and affordable deals this year," said Williams.
As part of the Christmas Promotion, last Monday, LIME had a Health Day, where community nurses did blood pressure and blood sugar checks at the Halifax Street store, while Coreas Hazells Inc did breakfast samples. Tuesday was Beautification Day and saw staff of Barnet Fair Hair doing mini make-overs and giving hair tips. Wednesday was Wellness Day and saw persons receiving free health and nutrition consultations, while Coreas Hazells Inc offered specials on vitamins. Yesterday was Senior Citizens' Day and saw the LIME recognizing 20 of its long-standing customers with gift baskets. Today, Friday, November 20 is Country Manager Day and will see Hull greeting and meeting with persons and serving them food and drinks.
Williams said that persons in the Grenadines will also be treated on Mondays, Wednesdays and Thursdays to activities similar to what is taking place on the mainland, while the Christmas season will also see the distribution of food baskets in the various communities.