Posted on
GECCU makes it easier for members to own land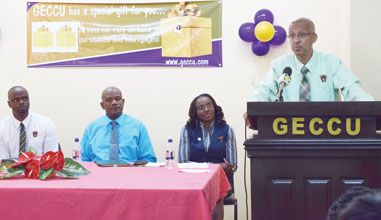 The Government Employees Cooperative Credit Union (GECCU) has now made it even easier for its members to own property with the launch of their latest product 'A Gift for you'.{{more}}
On Wednesday, GECCU's president Kelvin Pompey announced that GECCU has reduced the interest rate on land loans from 8.75 per cent, to 6.99 per cent, a reduction of 1.76 per cent, while they have also reduced the interest rate on mortgages from 7.75 per cent to 6.99 per cent, a reduction of 0.76 per cent.
Speaking from the Cooperative's Kingstown location, Pompey announced also that additionally, persons have more time to repay land loans, moved from seven to 15 years, while the maximum number of years to repay a mortgage has also been increased from 25 to 30 years.
"Effectively, this increase in the years to repay the mortgage will result in a reduction in the monthly payment on the loan, everything else remaining constant," said Pompey, stressing that this will result in significant cash savings accruing to borrowers.
"For example, a member who obtains a 30-year mortgage under the new 6.99 per cent rate would pay $74,279 less in interest payments over the life of the loan, when compared with the old rate of 7.75 per cent. This works out to a yearly average savings of $2,476 or a monthly saving of $206.33. Real, tangible saving and benefits passed on to our members," said Pompey.
He said that improved access by members to credit is one of the most critical factors that could influence the development of individuals, families, communities and nations as a whole.
"The board of directors and management of the General Employees Co-operative Credit Union is cognizant of this nexus, this strong co-relation between credit and the consequential growth and development of our members at all levels of our society.
"As a result of this awareness, we have implemented specific plans, programmes, policies and products, all aimed at ensuring that the membership of this credit union is provided with the best quality loan product and services at the most competitive prices" Pompey added.
It was revealed that as of October 31, 2015, GECCU has outstanding loans to its members of $108,530,521. The money is being used for, among other things, educational development, entrepreneurship, agriculture, vehicle purchase, home mortgages, home improvement and renovations.
The president added, "At GECCU we know that owing a piece of land and constructing a house on it means a lot to our members and to all Vincentians. However, beside an increased sense of pride, owing your own home brings about a sense of stability to home-owners. It acts as a means of savings. It also serves to provide security for parents to access loans to educate themselves and children.
"Perhaps most importantly, owing a property is an investment for the future, since generations to come would be able to use these properties to access capital that can be used for investment purposes."
He noted that their latest initiative is another tangible demonstration of GECCU's commitment to allow members to realize their dream of owning a house, or a piece of land.(LC)