Posted on
Bigger participation in this year's National Science Fair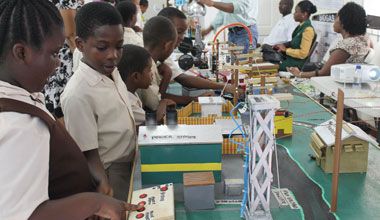 Although the National Science and Technology Fair has been operational for decades, this year saw one of the biggest – if not the biggest – levels of participation since the event's inception.{{more}}
The science fair, which ran from November 9 – 13, operated under the theme 'Scientific and Technological Literacy: An Imperative for a Green Vincentian Society', and saw students from various primary and secondary schools across St Vincent and the Grenadines submitting creative and well-executed projects.
Coordinator of the event Amaala Muhammad, education officer (Science) within the Ministry of Education, said that she was pleased with the attendance from not only student/schools, but also from members of the public.
"The perception of science is lifted when the public comes," enthused Muhammad.
"We do not have a culture of science and research in St Vincent and the Grenadines, and, therefore, most of the time the children… do the science, but it's mainly done as a subject. There is no real application of the subject outside of the classroom," she noted.
"So, the science fair gives them a chance to investigate things, to apply these concepts that they have learnt in the classroom to novel, new situations – to help to solve problems within their respective communities."
Muhammad also said that apart from the academic benefit, participation in the science fair also helps students to improve their self-confidence, ability to work within groups, and the ability to collect and manage data.
She noted that the focus for this year's science fair was on 'going green' because on a global scale, environment issues are of utmost importance.
"This is our home, therefore, what are we doing that is causing some of the things like global warming/climate change, habitat destruction, endangered species loss…
"These are the future decision makers and they have to be able to make decisions based on evidence… so they can make an informed choice."
She added: "The scientific approach is something that can be utilized in any aspect of our lives. Hopefully with time, activities such as this… we would be able to change that perception of science in St Vincent and the Grenadines."
Also in attendance at the science fair was Juanita Hunte-King, president of the SVG Science Teachers' Association.
"The aim of the science fair is to enrich the knowledge of scientific literacy here in St Vincent and the Grenadines."
Hunte-King explained that student participation has increased significantly over the years, and that this year, it was "way more than expected."
"We welcome it. We see good things for the fairs of the future… It's great that the Vincentian public shows so much interest in this."
She also noted that there seems to be more participation by female students over the past few years, considering that science has traditionally been a male-dominated subject.
VINLEC, co-sponsor of the science fair, was represented at the event by several staff members, who had set up two elaborate demonstrations that explained how electricity and magnetic force work.
Tamara Job-Sprott, communications officer (VINLEC), spoke with SEARCHLIGHT, explaining that the company has been a longstanding sponsor of the event, because it always seeks to associate itself with any brand that can "help develop young minds."
"We are calling it an investment, because we realize that it's an opportunity for youths to develop themselves, to show their talent and skills in the area of science and technology. The idea is that over an extended period, we can really see these persons blossom," said Job-Sprott.
"We have seen quite a large improvement in the participation… and we are quite pleased with the presentations that we have seen. I have seen some presentations that are energy-related and naturally we are excited about that."
She further encouraged more persons to get involved in science and technology because it is an integral part of "everyday living."
"It's really going to aid in national development… Once we excel in those areas, we are able to develop as a people… in all areas in the country, whether it's medicine, whether it's energy, whether it's agriculture."
The science fair took place last week at the Girl Guides' Headquarters at Level Gardens. (JSV)