Posted on
SVG seeing smaller vessels, more port calls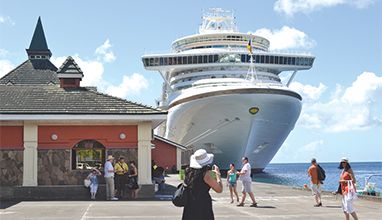 With the news that two large vessels from P&O Cruises will not be making calls to St Vincent and the Grenadines (SVG) this season, the administrative officer at the Cruise Ship Terminal and Ferry Berth is reassuring Vincentians that this is down to reasons outside of SVG's control.{{more}}
Speaking to SEARCHLIGHT last Tuesday, Nichole Hazell explained that although P&O's vessels 'Ventura' and 'Azura' will not visit Kingtown during our current cruise ship season, its smaller vessels will continue to come.
"Once in a while cruise lines will change the itinerary of their ships, and it just so happened that Ventura and Azura changed," said Hazell.
"They're not even in Barbados, and P&O usually homeports in Barbados."
She explained that there is an increasing number of destinations that are gaining popularity and, as a result, cruise lines are sending their bigger vessels to those regions. One such destination is the Northern Caribbean.
"So, the Southern Caribbean is seeing a shift where we're getting the smaller vessels, but it's not something that's based on St Vincent and the Grenadines doing something wrong," explained Hazell.
"It's not to say that it's a specific reason that we could control; it's just a decision by the cruise company."
Despite the change in itinerary for the Ventura and Azura, which each have a capacity of over 3,000 passengers, Hazell pointed out that the number of cruise ship calls this season has increased from last year (203), and has even surpassed that in the 2013 – 14 season (214).
"We still have a good season, you know… We actually have more calls than last season," she disclosed.
"… Sometimes we pick up an extra one during the season, and then also the Grenadines – which is doing very well. But the thing with the Grenadines is that they can only really accept the smaller [vessels]; 1,200 passengers and under."
According to information from the Ministry of Tourism, SVG will receive a total of 245 cruise ship calls this season, which officially runs from November 5, 2015 until April 26, 2016, with Kingstown expected to receive 58 cruise calls.
Bequia will receive 76; Tobago Cays, 50; Union Island, 30; Mayreau, 28; and three in Canouan.
All of the above ports of call (within SVG) have increased on cruise ship visits this year, except Mayreau and Canouan. Mayreau had 52 calls last season, and the number of calls to Canouan has remained the same. (JSV)