Posted on
Next general election will end Eustace's political career – Camillo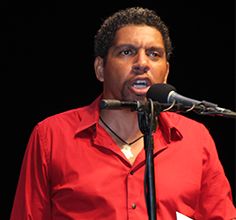 The Unity Labour Party (ULP) candidate for East St George has predicted that the upcoming December 9 general election will see the demise of Opposition Leader Arnhim Eustace's political career.{{more}}
Speaking at a rally in Richmond Hill last Saturday, Camillo Gonsalves asserted that the ULP will "write the first paragraph of the political eulogy and the political obituary of Arnhim Eustace."
He declared: "The NDP has not just lost elections, the NDP has lost its way. Once upon a time, whether you support them or you didn't support them, you could say the NDP stood for a certain set of ideas… But today, the NDP stands for nothing except for opposing Ralph Gonsalves in everything he says and does!"
The East St George candidate also insisted that the upcoming elections will see the rise of the political career of Luke Browne, the East Kingstown candidate who will challenge Eustace.
Furthermore, he reminded the ULP supporters that not only will they be voting based on who they want representing their constituencies, they also will be voting on who leads the country.
"You will choose between a man named Arnhim Eustace, who has never led a political party to victory in his life; who has never written or published or enunciated any national plan for this country; who has never demonstrated an understanding of the challenges and the dreams of the Vincentian people; who is unable to hold his own party together – they always fighting and quarrelling with one another…
"Or instead… you could choose a man named Ralph Gonsalves. A man who time and time again has proven his love for the people of St Vincent and the Grenadines; who has established himself as a regional and international figure of merit and worth; who has a set of principles to guide him; who has a track record of success; whose ambition and optimism and creativity in the service of the people has helped St Vincent and the Grenadines to weather the storms better by far than our Caribbean neighbours!"
Highlighting the accomplishments under the ULP in the areas of agriculture, health care, infrastructure, and education, among others, Gonsalves said that the choice come election day "couldn't be clearer."
"You will choose between building upon the forward-looking, people-centred programmes and policies and plans of the ULP, or destroying that foundation with the backward, rudderless and illogical New Democratic Party. Who will you choose on election day?
"The Opposition is wounded, it is cornered. It will do things in the coming weeks that reflect their desperation, because they are desperate. It will lash out against you, it will lash out against us. It will lash out against all the candidates – some of it has already started, but it will intensify. The lies will multiply, the nastiness will get deeper," he lamented.
"The gutter politics of the New Democratic Party will enter into a new phase of scurrility, but we will not join them down in the gutter. We are ready to build this country up, not pull it down…
"Try as they might, we know that no weapon formed against us shall prosper… We are the ULP and they are yesterday's news," insisted Gonsalves.
"Victory is so close we can touch it!" (JSV)