Posted on
Emmanuel Quashie – 'Weathering the storm' from Liberty Lodge to UWI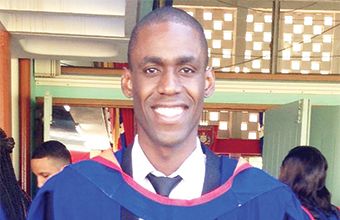 "You will stumble at times and there will be setbacks, but you must… keep on pushing forward. It's about weathering the storm and carrying on."
This is the simple yet sage advice that Bequia resident Emmanuel Quashie is giving to anyone hoping to overcome adversity to achieve success.{{more}}
Quashie recently graduated from the University of the West Indies (Mona Campus) with a First Class (honours) Bachelor's degree in International Relations, and is currently pursuing a Master's degree in Government at the same institution.
But the road to achieving all of this was by no means a bed of roses.
From a young age, Quashie experienced a somewhat nomadic life, being passed around from house to house by family and friends, because his mother had developed a mental illness, and was unable to care for him.
"My mother was mentally ill, and I had to deal with that fact," he recalled. "I was heckled about it at times by some friends, and even family members constantly reminded me of my mother's illness.
"I am guessing it was to establish my place in society; that a person like me was not destined for greatness."
Although he performed well educationally in his younger years, Quashie's mother's mental illness caused him to lose motivation at school and his performance and behaviour suffered – with him eventually ending up at the Liberty Lodge Boys' Training Centre.
Thankfully, however, Quashie said that he was "blessed" to have people outside of his blood relatives take an interest in his life, and help him get on the right track.
"They saw something in me that I didn't see at that time. Those people know who they are, and I would like to say that the young man that I am growing into today could not have happened without your unwavering support… For that I am grateful."
Quashie said that, given his rocky start in life, it inspired him to pursue a career which would allow him to help the less fortunate, promote good governance, human rights and social inclusion, and assist in creating a safer and more secure society for all.
"My experience living from house to house, simply to survive, taught me a great deal about why it is important to create a safety net for those who are less fortunate, and are struggling to get by on a daily basis."
Quashie explained that not only does he have a desire to give back to the people of St Vincent and the Grenadines, he also aspires to become a "global citizen" – helping those from other countries, too.
"I aspire to become the Permanent Representative to the United Nations someday," he enthused. "My options are open to working as a career diplomat as well."
Currently studying in Jamaica, Quashie admitted that his Master's programme is "quite heavy" – especially considering that due to some delays, he began the course three weeks late. But he said that despite this, he is enjoying it.
"The courses I am doing, they open up your perspective and you begin to analyse the world in a different manner. I find myself questioning things a lot more, being more critical in my approach to everything I do – not just academically, but even in my social life."
Additionally, he also tutors undergraduate students, which he explained is his way of giving back by "passing on knowledge."
Apart from his academic achievements, Quashie said that some of the most memorable moments of his life include having one-on-one discussions with Prime Minister Dr Ralph Gonsalves and Minister of Foreign Affairs Camillo Gonsalves, who was at the time SVG's Permanent Representative to the United Nations.
His most cherished memory, though, was meeting his role model US President Barack Obama during his visit to Jamaica in April 2015.
Quashie said that although he has not achieved all he intends to during his life, he encourages persons to keep a positive mindset and surround themselves with positive people.
"Take education very seriously," he advised.
"Make sure you work hard to obtain scholarships to help fund your education if you are a person that doesn't come from wealth… You have to set out goals and work towards them.
"To the young people and not so young people… you can be anything you want to be, but you must continue to dare to reach up and fight for that fundamental ideal that every person has the right to develop his or her own God-given potential!" (JSV)