Posted on
All we wanted was truth, justice – family members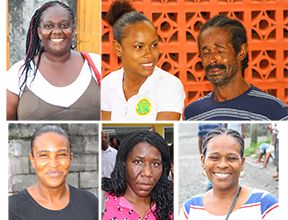 "Thank you, Jesus! We get we justice! I don't know what I would ah do if the verdict been call different," one woman shouted, as parents and family members hugged and formed a huddle outside the courtroom shortly after the verdict was announced.{{more}}
A five-member jury found that the deaths of the seven students were as a result of manslaughter by gross negligence, for which driver Ravannan Nanton, conductor Ehud Myers and principal of the Fancy Government School Colbert Bowens were all culpable.
Jamalie and Jamal Edwards, Racquel Ashton, Glenroy Michael and Annique Alexander perished in the January 12, 2015 accident, when minibus HL636 driven by Nanton, ran off the road and plunged into the sea at Rock Gutter. Chanstacia Stay and Simonique Ballantyne were never found and are presumed dead.
With the annoucement of the verdict, Nelcia Stay, mother of Chanstacia, grabbed the hand of a family member seated next to her in the courtroom, as tears streamed slowly down her cheeks.
Seated just behind Stay at that time were the conductor Myers and the driver Nanton, whose faces took on looks of disbelief when the jury's decision was announced.
"I feel like if justice has been served. This has been a long time coming. We waited so long and I prayed. I prayed. I said 'God, you know what happened that day. You know it all. You just reveal it to us'.
"All we wanted for our children was some justice and that the truth be told," a tearful Stay told reporters.
The grieving woman added that it has been hard to cope with her daughter's loss, noting that she sometimes cannot believe that Chanstacia is no longer with her.
"…This inquest was so hard on me. I am not feeling well at this moment. Thank God father that you're alive and you know all things…," Stay wept.
Metheline Alexander, mother of Annique, said it was the first time since January that she felt that a burden had been lifted from her heart.
"We moving on to justice road and I am very happy and I am hoping from here on we see something is going. My pressure always up. No matter how many pressure tablets the doctor give me, my pressure wouldn't go down, but today will give my heart a little ease.
"Probably later my pressure might go down because I feel a little happy today. Praise God!" Alexander chimed.
Jemma Edwards, mother of Jamall and Jamalie, could only muster up a few words.
"I am feeling good. I am really pleased with what happened today," she said, with a smile.
Ruth-Ann Bowens' voice bore testimony of the horror she experienced back in January.
The 18-year-old, who was an occupant of the minibus, gave thanks to God for Tuesday's verdict.
"I really thank God for life and for today. Right now I am happy. I thank God for giving us justice for the seven lives that were taken," Bowens said, as tears settled in the corners of her eyes. Her father, David Nanton, cried openly while standing next to his daughter.
Rochelle Ashton, mother of Racquel, expressed delight in the verdict, but noted that the pain of losing her daughter still stings.
"I miss her a lot because she's my only one daughter. Today, I know she could have been in college and making us proud. She was the love of my life. She was so beautiful to everybody. Thank God justice has been done and I am so happy. God is good.
"It is something that could have been avoided, but only God knows. I can't even find words to say about my daughter. She was so precious. She was my hand and foot. Sleep on, my baby and rest in peace. Mom always love you," Ashton said.
The parents of Simonique Ballantyne and Glenroy Michael, who were also present, declined to speak with SEARCHLIGHT.
The three men have been granted bail in the sum of $20,000 each, with two sureties.
Further legal action is expected to be taken against them.
Coroner Rickie Burnett presided over the inquest. (KW)