Posted on
The miracle is almost here – President Maduro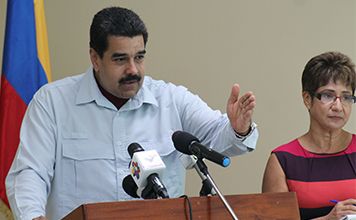 "We came here some years ago and we stood in this place, and we considered that it was impossible to conduct this major work. Today, we can say that the miracle is almost there – it's a reality!"
This was the declaration of Nicolás Maduro Moros, president of the Bolivarian Republic of Venezuela, as he toured the Argyle International Airport (AIA) during a state visit yesterday, November 2.{{more}}
Maduro congratulated the Government of St Vincent and the Grenadines (SVG) on its achievement, and said that the AIA was the result of the "adamant will" of Prime Minister Dr Ralph Gonsalves and the hard work of the workers, engineers, and experts who contributed to the airport's construction and development.
Speaking at a press conference through an interpreter, he enthused: "These walls are not there just by magic; these walls are the result of the hard work and the devotion of all the workers!"
Maduro, who arrived in state on Sunday, November 1, said that Venezuela's involvement in the region – through ALBA – is to "put in practice this idea of creating a very powerful and efficient economic zone of the Caribbean.
"This process is under threat by the policy of chaos, by the empire of chaos, by this craziness of trying to dominate us," he explained.
"Either we work together and we build together or we are split. And if we are disunited, they again will dominate us."
Citing Africa and the Middle East as examples, Maduro opined that the outside forces who wish to dominate have intervened in those regions under the guise of bringing peace and development to these regions.
However, what has actually resulted from said intervention is the complete opposite – death, destruction and economic instability.
"This is why what we are doing today in the Caribbean is so important, and also in Latin America. We are laying the foundations of a world of peace, cooperation and stability; and the only way for those foundations to be strong is that people and governments are free."
The Venezuelan president, referring to ALBA, acknowledged that there are many who question its motives, insisting that it is a tool to promote negativity.
"Our alliance is for life, for development and for peace… to give the sight to those who have lost it… It is an alliance to foster free and quality education for our children. It's an alliance for true development," he insisted.
"There should be no doubt in our minds that PetroCaribe today is the backbone of the energy, social, and economic development of our region."
Prime Minister Gonsalves also addressed the press conference, recalling that when he had initially been seeking financial assistance to build the international airport, Cuba and Venezuela had come on board readily.
This, he recounted, was in stark contrast to being turned down by several European countries, Canada and the United States.
Gonsalves further noted that assistance was given by the governments of Taiwan, Trinidad and Tobago, Mexico, Austria, Turkey, Libya and Iran.
"Towards the end, the American export state agency, the Canadian export credit state agency, the British export credit state agency, they came on board to guarantee loans to show you the importance of being independent in your foreign policy."
He also mentioned that after returning to St Vincent from a trip to Iran in 2009, he was visited by an official from the US State Department, who questioned the Prime Minister about why he had sought assistance from Iran.
"I said I read the Old Testament, and in the book of Daniel, I find Iran – the former Persian Empire, that is over 6,000 years ago," said Gonsalves.
"Could you please tell me… where in the Old Testament or in the New Testament that I find the United States of America? He laughed, and that was the end of the discussion."
He continued: "Now, America is talking to Iran – they are now in Geneva holding talks over Syria – but then they didn't want me to talk to Iran. St Vincent and the Grenadines, under my government, talks to whoever we want to talk to.
"We have friends which we determine for ourselves; nobody tells us who our friends are."
This is the third time that a Venezuelan president has visited SVG – with former president Hugo Chavez (now deceased) visiting previously in November 2001 and February 2007.
As well as touring the AIA, Maduro and his contingent were given a brief tour of the Kingstown Fruit and Vegetable Market, before heading into bilateral talks at the Prime Minister's Office.
A luncheon was also held in honour of President Maduro at the official residence of the Prime Minister.
The President and his contingent were scheduled to leave the state yesterday at 4:30 in the afternoon. (JSV)