Posted on
Vinlec meets with South Rivers community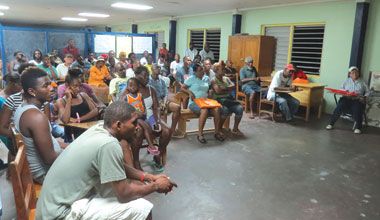 Residents of South Rivers met with representatives of VINLEC to discuss the upcoming rehabilitation project at the South Rivers Hydro Power Station, scheduled to commence within the upcoming month. The meeting was held at the South Rivers Methodist School on Thursday, October 15.{{more}}
The VINLEC team included chief executive officer Thornley Myers; manager/engineering Dr Vaughn Lewis; station supervisor Lonnie Dabriel and other officers from the company. Ruddy Daize, manager of Ruddy's Electrical Contracting Company, was also present.
VINLEC's manager/engineering Dr Vaughn Lewis told the gathering that the project is extensive and solicited the support of the community as the company embarks on this undertaking. He explained that work will be done on the pipelines and also at the power station. Lewis outlined the scope of works and noted that the wood stave pipelines will be replaced with Glass Reinforced Plastic (GRP), which he said will allow for greater efficiency and a safer environment. According to Lewis, the electro-mechanical work that will be done at the power house will enhance the overall operations at the company.
chief executive officer Thornley Myers thanked the community for supporting VINLEC over the past 63 years that the company has been operating in the community. He reinforced the need for members of the community to work closely with VINLEC, as they reside in close proximity to where some of the rehabilitative work will be done. Myers noted that the work will require heavy equipment and a fairly large work force and that VINLEC will work to ensure that there is minimal disruption to the way of life of the residents.
Upgrade work at the Richmond Power Station, which was damaged in the December 2013 floods, is in the final stages. VINLEC's technical team is undertaking a series of final tests and the official recommissioning will take place within the next week.
This upgrade of the South Rivers and Richmond Power Stations is part of VINLEC's plan to improve efficiency at all of the company's power stations. It is also in keeping the VINLEC's mission to maximize renewable energy in the generation mix.