Posted on
PM Skerrit expresses gratitude to SVG for its continued support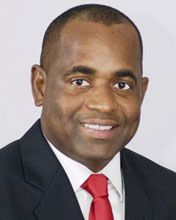 Prime Minister of Dominica Roosevelt Skerrit has expressed his gratitude to the Government and people of St Vincent and the Grenadines (SVG) for their continued support of Dominca's efforts to rebuild after the passing of Tropical Storm Erica in August.{{more}}
In letter to Prime Minister Dr Ralph Gonsalves, dated September 29, Skerrit acknowledged the donation by the Government of SVG of $100,000 towards Dominica's relief recovery efforts. He also thanked the Government for their assistance in the health care sector.
"Let me also recognize with deep appreciation, the further support of St Vincent and the Grenadines through the deployment of health care providers following the storm and the provision of much needed relief supplies."
The Government of SVG also donated 100 metres of Bailey Bridges to the storm ravaged country and the gesture has not gone unnoticed.
"…some of the Bailey bridges provided by your Government have been installed, greatly improving communication and alleviating the plight of Dominican people. We are truly grateful for this assistance…"
On August 28, Tropical Storm Erika passed over Dominica, leaving 20 dead, many missing, villages flooded, roads eroded and over $288 million dollars in damage.(CM )