Posted on
Mespo woman wins US$25,000 Breast Cancer Walk Raffle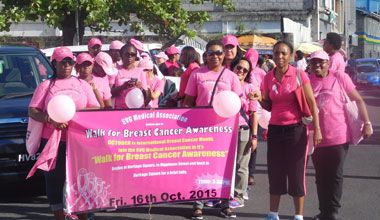 Erica Gilbert of Mesopotamia is the lucky winner of USD$25,000, after her ticket was drawn in the St Vincent and the Grenadines Medical Association/Mustique Airways Breast Cancer Walk Raffle on Friday, October 16.{{more}}
Gilbert, who works at the CIBC First Caribbean International Bank, told SEARCHLIGHT that she is still in shock and still cannot believe that she had won the raffle.
"I still was wondering if it is really me, but I have realized it's for real, so I'm happy about it."
Gilbert also had the option of choosing a 2015 Hyundai Tucson vehicle as her prize.
Additionally, Herman Belmar of Bequia won a tablet, compliments Digicel and Michelle Francis of Akers won a smart phone, compliments LIME.
Representative of Mustique Airways Keisha Martin explained that the raffle was a sign of the company's continued commitment towards giving back to Vincentians.
"As a company, we pride ourselves on giving back to the Vincentian public and this is one of the many ways that we would have kept our commitment to doing so."
The raffle was drawn at the 11th Annual Breast Cancer Awareness Walk, which also included an address by president of the St Vincent and the Grenadines Medical Association Dr Rosalind Ambrose.
She told persons in attendance at the rally at Heritage Square that the walk is held to raise awareness about breast changes, improving breast health and healthy diets.
"We walk to encourage women to practise self breast examination; we walk to encourage women that at the age of 35 and over we should consider and have a mammogram each year; we walk to encourage you to pass this message on that we would like to see a better survival rate of women affected with breast cancer in St Vincent and the Grenadines; we walk with the hope that someday there is a cure…we will walk to remind women over and over again that if or when the disease strikes, they are not alone," Dr Ambrose stated.
Additionally she noted, "we do this each year to remind as many people as possible that breast cancer is a very significant disease; it affects many women around the world and can also affect us in the prime of life."
She encouraged women in attendance to pay more attention to their breast health and noted that one in every eight women will be affected by breast cancer.
"If your breast cancer is detected early, your survival chances are very good. Unfortunately, so many women discover the disease when it is quite late and has advanced tremendously," she explained
Also speaking at the rally was president of the SVG Bar Association and Speaker of the Organization of Eastern Caribbean States (OECS) Assembly René Baptiste.
Baptiste disclosed that after a recent survey which was done by the Ministry of Health on chronic non-communicable diseases, she is worried about the health of women in St Vincent and the Grenadines.
"They say we eating too much salt, too much sugar, not enough fresh fruits, not enough fresh vegetables and we do not exercise enough," she stated.
The rally also had messages of hope, courage, strength, faith, love and understanding from the survivors' handbook.
Dr Douglas Slater, assistant secretary general of CARICOM, director of human and social development, also made brief remarks at the rally. (CM)