Posted on
Coreas Hazells lends support to Trinity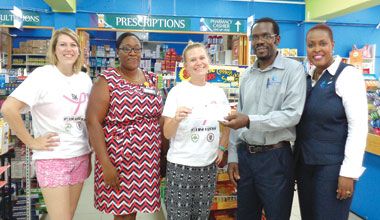 The firm of Coreas Hazells Inc, through its pharmacy, provided assistance to the students of the Trinity School of Medicine in their pursuit to raise funds to aid breast cancer patients here in St Vincent and the Grenadines.{{more}}
Recently, Granfel Francis, senior pharmacist at Coreas Pharmacy, handed over a cheque in the amount of $1,000 to Alyssa Heinrich and Megan Appleby, representatives of Trinity. The handing over was witnessed by Jean Johnny-Findlay, manager of Coreas Pharmacy and Food Express and Dr Frances Jack, associate dean of students at Trinity.
The donation was used for the purchase of T-shirts for the second Annual Breast Cancer 5K Walk/Run, a collaboration between Trinity School of Medicine and the St Vincent and the Grenadines Medical Association, which was held on Sunday, October 18.
Dr Frances Jack expressed her gratitude to Coreas Hazells Inc. "We're really ecstatic about this because a lot of persons have been coming on board and supporting us with donations, but this has been the greatest amount so far," she stated.
According to Johnny-Findlay, because of her company's interest in bringing the issue of breast cancer and the support for survivors to the forefront, she felt the donation was a meaningful gesture. "Coreas is always willing to assist where possible," she said. "We thought it is a worthy cause where these young people from Trinity are making an effort to continue to draw attention to breast cancer."
Johnny-Findlay felt that it came at a time when the Coreas Pharmacy focuses on breast cancer. "We are going to have activities in the store and we thought it a good gesture to partner in this way," she explained.
These activities included a 'Pharmacy Day' on October 21, where persons had free blood sugar and blood pressure checks and received information on managing breast cancer.