Posted on
CLSS celebrates 45 years of existence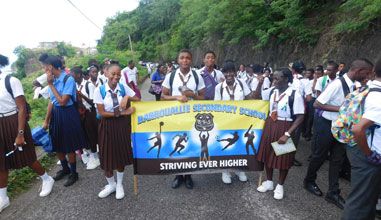 Under the theme 'Continuing to Strive at 45', staff and students of the Central Leeward Secondary, formerly the Barrouallie Secondary School (BSS), took to the streets on Wednesday to commemorate 45 years of the school's existence.{{more}}
Celebrations commenced with a brief devotion in Barrouallie at the school's previous location, followed by a march to its current site at Peter's Hope.
Students are being encouraged to strive for excellence by the school's principal Dora James, who informed SEARCHLIGHT that celebrations of this milestone will be conducted throughout the school year, although its official birthday is January 11.
The school will also be contributing to the independence celebrations through their representative Ulrica Gaymes at the Secondary Schools Miss Heritage Pageant, scheduled for October 31 at the Victoria Park.