Posted on
2015 VINLEC National Science and Technology Fair kicks off next month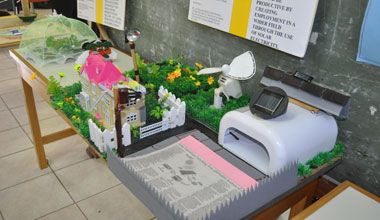 The theme of this year's fair – "Scientific and technological literacy: An imperative for a green Vincentian Society," urges Vincentians to appreciate the role that Science and Technology play in our country and to think about ways in which science can be used to preserve and make our world more sustainable.
The objectives of the fair include:
To provide a satisfactory forum and opportunity for healthy competition on the individual and institutional level
To focus attention on future scientists as it highlights their inventiveness, creativity and innovation
To give public recognition to persons for the work they have done
To increase interest among students and thus encourage more students to become involved in Science and Science-related careers
To improve communities' perception of Science
The fair continues the mandate of the SVGSTA, envisioned when the association began in 2002. Since its inception, the SVGSTA members have worked to strengthen Science education in schools, and towards the improvement of the teaching/learning experience of students, teachers and the general public through various projects over the years. These projects included:
Hosting several workshops to assist primary and secondary school Science teachers in delivering practical Science lessons and marking SBAs for CXC
Giving lectures to students regarding scientific practices and study techniques such as the SQ3R
Hosting national Secondary Schools' Science quizzes
The 2015 VINLEC-sponsored National Science and Technology Fair, is scheduled for November 9 to 13, 2015 at the Girl Guides Headquarters. The slogan this year is "Going Green in 2015". The fair is open to everyone (whether student or adult) who is interested in showcasing investigations, inventions, models etc. and offers the opportunity to win great prizes!
The age categories include:
Lower Primary (Grades 1-3)
Upper Primary (Grade 4-6)
Lower Secondary (Grade 7-9/Forms 1-3)
Upper Secondary (Grade 10-11/Form 4-5)
Post-Secondary (all post-secondary levels)
Whole school projects and open/public
Projects for the fair may be entered under the following categories:
Behavioural and social science
Scientific drawings/posters
Persons desirous of entering the fair are cautioned to be aware of the following:
Projects may be entered by an individual or group of up to three persons
Projects must be accompanied by a poster and written report that does not exceed 1 square metre of space
No dangerous, flammable, explosive or toxic materials, open flame or heat source, live animals or human body fluids will be allowed at the fair
No animals should be harmed in the production of the project
Exhibits should be registered and set up no later than 5:00 pm on Monday 9th November
Projects involving moving parts should be contained to the space of the exhibit
Exhibitors are expected to stay with their projects to ensure that they are present during judging and to ensure the security of their projects
The general public is invited to view the projects on November 12 (8:30 – 4:00) and November 13 (8:30 – 12:30). The SVGSTA looks forward to seeing a full school and public participation in the 2015 Vinlec National Science Fair. Do not miss your chance to be a part of this creative and exciting process of our nation's scientific ingenuity!