Posted on
Youths urged to make early knowledgeable career choice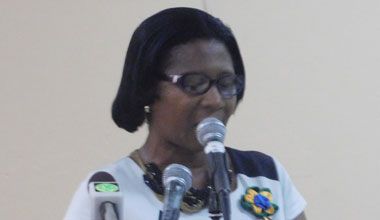 The Ministry of Education and St Vincent and the Grenadines Medical Association (SVGMA) have once again collaborated to host the College and Career Exhibition.{{more}}
Students from various educational institutions across St Vincent and the Grenadines attended the exhibition on Wednesday and Thursday this week and interacted with representatives from Monroe College, St Lucia, the Trinity University School of Medicine, the Organization of American States, the SVG Community College, the SVG Medical Association, the Cadet Corps, the Coastguard and the Ministry of Education.
Held under the theme "The depth of your investment is the height of your career success," the exhibition, which was held at the Methodist Church Hall, pointed attendees to opportunities for career growth and development. It was also hoped that students would be motivated to make the best career choices and that they would be generally equipped to reach their full potential.
According to senior education officer Aldia Gumbs-Dyer, motivational presentations were made to give attendees the opportunities to further enhance their current career, start on a career path and even change their current career path.
She stated that because of this event, stakeholders in the business of education across the country take time out to focus on the important issues pertaining to career development.
President of the SVGMA Dr Rosalind Ambrose said the Caribbean has little to offer in terms of available technical skills and it is essential that early career choices be made.
"Making early knowledgeable choices about your career to capitalize on the wider possibilities which are possible in other developing countries is essential.
"Good education is the single most important thing that can be used to change your life, better your standard of living and make it possible for you to do many more inspiring things in your lifetime."
Ambrose is convinced that there is a truckload of inspiration for this generation to derive benefits, as education remains the most powerful tool in today's world and it is what drives progress.
According to the consultant radiologist, over the past 10 years, St Vincent and the Grenadines has many more young people studying for various careers than any other English speaking country in the Caribbean.
To illustrate her point, Ambrose gave examples of Vincentians who flew helicopters in Afghanistan, are currently in the command line-up on a submarine on its way to Antarctica and have completed studies in marine welding.
According to Ambrose, the exhibition attempts to bring these careers to students and she encouraged them to explore their curiosities and possibilities.
The SVGMA president said she believes in a few years time, SVG should have acquired most of the careers and skills for the new airport to be totally managed by Vincentians, adding that one of the presenters would discuss the multiplicity of work areas that are necessary for a successful aviation industry.
"Passion is merely the fuel that powers your drive," president of the Association of Music Professionals (AMP) Orande "Bomani" Charles told students in his feature address. The recording artiste encouraged students to equip themselves with the knowledge and understanding of their various career choices and shared his experiences with the hope of motivating students to work towards their career goals.(AS)