Posted on
Browne outlines plans for East Kingstown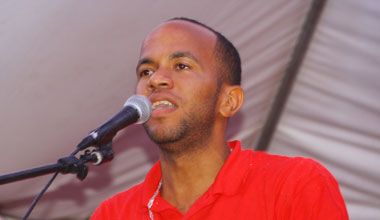 Luke Browne, the candidate for the Unity Labour Party (ULP) in East Kingstown, says if elected, he will have to right 17 years of wrongs caused by poor representation by incumbent Arnhim Eustace, president and leader of the New Democratic Party (NDP).{{more}}
Speaking at a rally at Sion Hill on Saturday, Browne, who described Eustace as an 'absentee representative,' said some persons in the constituency have never seen him in their communities since he was first elected.
According to the 30-year-old, his opponent knew that the Sion Hill Government School recorded the lowest pass rate in the Caribbean Primary Exit Assessment (CPEA) this year, but did nothing about it.
"On the other hand, I immediately set out on a focused journey to turn around the situation. I know that many of the students there could not afford extra lessons and their parents may not be able to help them, so I decided to provide lessons for those children free of cost," he said.
Browne said he will do whatever he can to make sure that the students know that they could attend the Boys Grammar School and Girls' High School, noting that all they need is "a little hope and attention."
In rolling out some of his plans for the constituency over the next five years, Browne spoke of education and stated that he plans to provide help with school-based assessments and academic support to students who attend the Intermediate High School and the West St George Secondary.
"Education is an important priority and we will construct from this starting point, a comprehensive educational programme that will transform the lives of our children and that will help students who were on course to becoming secondary school drop-outs to become university graduates. This constituency will be the envy of the world," Browne said.
He stated that he will do further work on the Sion Hill Clinic, which he says is another area that demonstrates the failure of Eustace as representative.
"Mr Eustace, from his Nice Radio platform, lamented the condition of the clinic. The reports were carried in the newspapers, but again, why didn't he do something about it?
"By contrast, we learnt about the condition and we acted to improve the condition of that important health care facility. This was through a community self-help project. If we didn't take the initiative, nothing would have been done," he added.
Browne also mentioned plans to fix the access road to the clinic and urged Prime Minister Dr Ralph Gonsalves, as Minister of Transport and Works, to complete other roads works around the constituency.
"I expect work on the recreational park in Roseau to begin by minister as early as Monday morning. The plans have been drawn up and the contractor has been identified. I have also identified a piece of land in Cane Garden where we could put a playground for children in that community," the Cane Garden resident said, adding that in the 2010 elections campaign he had promised to secure the installation of street lights on the strip of road between Roseau and Sion Hill Bay and has delivered on that promise.
"I will like to set up committees in various communities of the constituency that would have local responsibilities. The work towards this goal has already begun. I will also like to organize an exchange programme for young people in the constituency, including young people who are unemployed. The plan is to take them to Dominica next year for Creole Festival.
"I also plan to set up a local employment agency that works in conjunction with the Labour Department to help with training and job placement for young people in the constituency. To continue and expand Luke's Kids Club with a broader mandate that includes after school programmes, sports clubs and academies and even adult education programmes that complement what is already being offered by the Government," he said.
Browne also said he will also address the security concerns of Cane Garden residents and other communities of the constituency.
Acknowledging that he is not perfect, Browne said tries his best to do things and to help people out, but sometimes falls short despite his best efforts.
"Over the years, I surely have disappointed some of you, I have surely made some honest mistakes and I am sorry. I don't want, however, for that to make us spoil something good. I love the people of East Kingstown with all of my heart…"
In the upcoming elections, Browne will make his second attempt to unseat Eustace, who has represented that constituency in Parliament since 1998.(KW)