Posted on
JCI gives back to community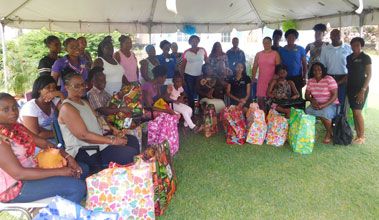 The members of Junior Chamber International (JCI) St Vincent and the Grenadines have once again made donations to the Helping Hands Centre and residents of various communities, in commemoration of the organization's 56th anniversary.{{more}}
Last Saturday, at a handing over ceremony, persons who are diabetic, hypertensive and/or shut-ins received gift baskets containing toiletries and foodstuff and were served with light refreshments after the ceremony.
Following expressions of gratitude by the recipients, JCI's president Mandisa Stephens told SEARCHLIGHT that she intends to look into making the donation of gift baskets an annual exercise.
Apart from the Helping Hands Centre, 19 clinics received supplies, including those at Fancy, Owia, Sandy Bay, Overland, Georgetown, Byera, Colonarie, Biabou, Greiggs, Mesopotamia, Enhams, Buccament, Layou, Barrouallie, Clare Valley, Chateaubelair, Troumaca, Rose Hall and Spring Village.
Stephens expressed joy at the turnout at the ceremony, which included persons from many rural areas of the country. She encouraged those present to become members of JCI.
Earlier this year the organization held a week of activities to mark the 100th anniversary of JCI International and in recognition of the centenary of the world body, the organization promised to distribute 100 food baskets islandwide to shut-ins.(AS)