Posted on
I am not in politics to amass wealth – Ferdinand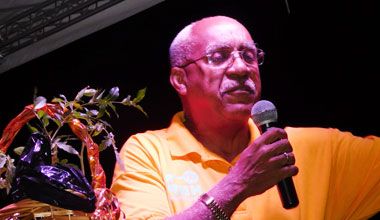 When Jules Ferdinand and the New Democratic Party (NDP) give away supplies to Vincentians, it is not for votes, but because they are statesmen.{{more}}
At a rally of the NDP last Saturday in Belmont, Ferdinand made this claim and told NDP supporters that, unlike the ruling Unity Labour Party (ULP) government, he is not in politics to amass wealth, but his purpose is simply to build people and take them from one step to another.
"Politicians who amass a lot wealth are not doing it for the country, but are doing it for themselves…a true statesman would know that you have to build people and take them from one step to the other, all people."
According to Ferdinand, who is contesting the West St George seat for the NDP, "a politician, as we know politicians to be, look out for support for the next election; they do things for votes. A statesman looks beyond to help people to retain their dignity and to give them hope beyond their life-time into the next generation."
Ferdinand recalled an encounter he had recently with a supporter of the ULP when he was visiting his constituency.
"When I was visiting, as destiny would have it, her little piglets came out and scampered across the road. I said to her, 'I can see that those pigs were able to get through the barricade. I have access to some materials…would you be interested in me giving some to you to fix your pigpen?' She said to me: 'You will do that?'…In doing that I never once asked her to vote for me," Ferdinand recounted.
"…The NDP does not distribute stuff for persons to vote for them…we are statesmen above and beyond everything."
Ferdinand reassured the supporters that he will continue his farming, his recycling and his composting and will give away to anyone, whether it be ULP or NDP, once they ask. (CM)