Posted on
YRP gives new police unit big boost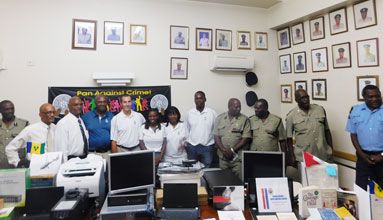 Last week, equipment valued at Cdn$20,000, was handed over to the Royal St Vincent and the Grenadines Police Force (RSVPF) by the York Regional Police (YRP) of Ontario, Canada.{{more}}
At the presentation ceremony, which took place on October 1, Commissioner of Police Michael Charles showed deep appreciation to the YRP for their donation towards the development of a Sexual Assault Offences Unit.
"The Royal St Vincent and the Grenadines Police Force is in a better position, thanks to the York Regional Police," a near teary-eyed commissioner said, in the presence of senior officers of the RSVGPF.
Charles had previously promised to create the unit and is now one step closer to keeping this promise.
The items donated included: back-up power supplies, Uninterruptible Power Supply (UPS), routers, monitors, desktop computers, laptops, servers, accessories and printers.
"This is for the development of all Vincentians and the police service here," Staff Sergeant of the YRP Toney Browne stated.
Formally of Coulls Hill, St Vincent and the Grenadines, Browne said by ensuring these donations were made, he is giving back to his country. He said he was notified of the intention of the Commissioner by Assistant Superintendent of Police Sydney James, head of the Calliaqua division of the Criminal Investigations Department (CID).
"If we can afford to assist that's what we'll do…"
Browne, who has served 34 years in the YRP, assured officers that the computers, although refurbished, are still valuable and that they would continue build relationships and assist in whatever way they can.
"It is really for women to have a safe space where we can report these types of crimes," stated Vodell Burke-Cain, a female member of the group of YRP officers.
Vodell is the wife of Casroy Cain, who, along with Florette Israel, is also a member of the YRP, and part of the delegation. Cain and Israel are also Vincentians. (AS)