Posted on
WPP to host team of orthopaedic specialists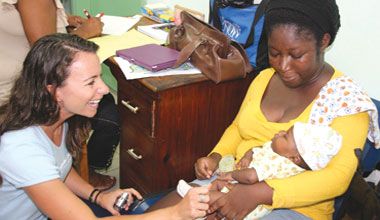 Fresh off the heels of hosting a seven-member urological team, local World Pediatric Project officials (WPP SVG) are preparing to host a mission consisting of orthopaedic specialists, in the upcoming weeks.{{more}}
More than 50 children from St Vincent and the Grenadines and the region would be seen by a new seven-member team of surgeons and professionals, who would provide assessments and surgeries free of cost to the critically ill youngsters, mainly with issues related to scoliosis, or curvature of the spine.
Patients who may require attention that cannot be provided here would receive that treatment in the United States, also free of cost.
The team arrives in St Vincent and the Grenadines on November 7, and would spend the next week providing care at the Milton Cato Memorial Hospital, where assessments would take place, followed by the surgeries.
The team would be the last of ten missions to come this year to take care of children with various health issues, including cardiological and neurological problems.
Last September, close to 40 children from St Vincent and the Grenadines, Dominica, St Lucia, Barbados, Grenada, Guyana and Barbados received urological treatment from the visiting team.
Another 10 to 12 missions are slated to take place in 2016.
The World Pediatric Project has been providing service to children from its base in St Vincent and the Grenadines for the past 13 years and has assessed and provided care to thousands of children over the years.
WPP SVG also hosted its first charitable event called SOCA (Saving our Children All-over), which raised funds to assist families who would be needing help in receiving treatment.