Posted on
Teacher assessment model needs updating – PM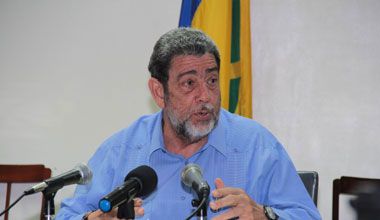 The model used here for assessing teachers needs to be updated, while the promotion system for teachers does not meet the merit required in a modern management system.{{more}}
A new system is also needed to curb assessor bias and nepotism, as teachers play a crucial role in the development of a country.
"You need some other type of objective assessment in the system so that friend friend-ism can be reduced to a minimum," said Prime Minister Dr Ralph Gonsalves, during a meeting at Cabinet Room on Monday.
Currently, the St Vincent and the Grenadines Teachers Union is on the Government's back for a month's tax free salary that will amount to EC$25 million, a price the PM says that Government cannot pay.
Addressing the issue on Monday, the PM said that while the teachers are asking for the money, there are a number of other issues that can also be discussed.
He said that teachers are appointed by the Public Service Commission (PSC) and the Ministry of Education has authority over the teachers and in "most" instances members of the PSC or the Ministry do not know the teachers, but sometimes good and bad reports are made about educators.
He said that recommendations for promotion and other things are made by the senior education officers who interface with the various schools and from them the recommendations for promotion go to the PSC, but in his opinion something more needs to be done as it relates to assessing.
"I spoke to the Ministry of Education about this and I spoke to the Teachers' Union about this. Things have been so from time immemorial and I am determined to change it," stressed Dr Gonsalves who said that his statement does not mean that the recommendations are not laudable.
"I am not saying that the recommendations are not meritorious, but I am not satisfied that at critical junctures a sufficiently objective assessment is made," stressed Gonsalves.
"The implications of what I am suggesting is that, one, there is a minimum quality in the school system, society and family," noted the PM, who revealed that a paper he did shows that the two ingredients for outcomes in schools are quality teaching and quality school leadership. Things, he said, must be judged by an ongoing assessment and by an external reference point (for instance UWI), "and not from the Ministry."
He stressed that he wants implemented a modern system of evaluation that shows up teachers who are excellent in their profession.