Posted on
LIME donates $15,000 to Lions Club of St Vincent South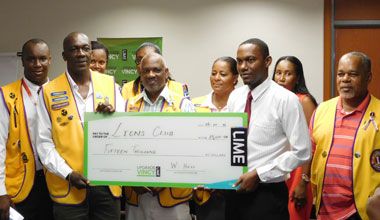 LIME solidified its partnership with the Lions Club of St Vincent South for their 2015 Secondary Schools' Public Speaking competition by handing over a cheque of $15,000 to the service club last Tuesday.{{more}}
"We're excited about event this year and looking forward to the students excelling in the competition," country manager Wayne Hull stated last Tuesday at a press conference.
Hull also revealed that the six finalists would receive a tablet or a high-end smart phone from LIME, along with free superfast broadband Internet and mobile 4G data services for an undisclosed length of time.
He further stated that top three participants would receive a two-year tertiary educational scholarship. Third place would receive an annual scholarship of $500, second place, a $1,000 scholarship and the person placing first would receive $1,600 annually.
The school of the first place winner will receive $3,000 towards a school project.
Hull said he believes that the competition is important for increasing the public speaking skills of the student body and further augments the national gains in education in St Vincent and the Grenadines.
The contribution from LIME has an estimated value of $30,000.
For the first time, the National Insurance Services (NIS) has also joined LIME in sponsorship of the competition, with a donation of $5,000.
NIS legal secretary Jimesha Prince stated that the NIS embraces every opportunity to forge public-private partnerships with institutions such as the Lions Club South in hosting these types of exercises, since they regard this as part of their corporate social responsibility.
The competition is separated into four zones, beginning at Frenches house next Tuesday, when the St Vincent Girls' High School, Bishop's College Kingstown, Dr JP Eustace Memorial Secondary School, St Clair Dacon Secondary School, Thomas Saunders Secondary School and the Emmanuel High School Mespo will speak on the topic: 'HIV/AIDS is no longer a death sentence, so why worry?'
Zone two comprises the Campden Park Secondary School, St Vincent Grammar School, Bequia Community High School, Bequia SDA Secondary School, Intermediate High School and the West St George Secondary School, who, on Wednesday, at the Campden Park Secondary School, will speak on 'The Sargasso weed is having an adverse impact on marine life in the Caribbean; are appropriate measures being taken to mitigate the effects?'
Zone three comprises the St Joseph's Convent Marriaqua, Mountain View SDA Academy (the reigning champs), Georgetown Secondary School, Adelphi Secondary School, North Union Secondary School, Sandy Bay Secondary School and George Stephens Sr Secondary School, who, on Thursday, at the North Union Learning Resource Centre, will speak on 'Whither bananas? Is this the end of the industry?'
Zone four comprises the St Martin's Secondary School, Central Leeward Secondary School, Troumaca Secondary School, Petit Bordel Secondary School, Union Island Secondary School and Buccument Bay Secondary School, who, on Friday, at the Barrouallie Learning Resource Centre, will speak on the topic 'Many Vincentians confuse customer service with servitude.'
The competition's objective is to develop the public speaking skill of secondary school children, to raise the awareness of young people and the nation at large of current issues, to broaden the scope of their activities as Lions, to stimulate an attitude of research amongst young people and to provide a forum for discussion of issues of national interest.
This is according to Lions Club South president Michael John, who also stated that they are expecting all 24 schools to participate this year, improving last year's number of 20 participants.
The competition's finals will be held on November 5, at the Methodist Church Hall in Kingstown.(AS)