Posted on
Community groups receive donation from JEMs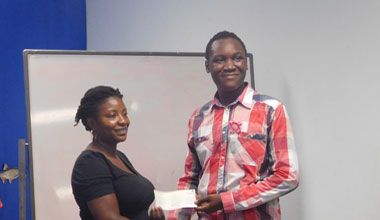 The JEMS Progressive Community Organization last week handed over a total of $14,000 to six community groups to help with their efforts to create a green community.{{more}}
The donations were made as part of activities to celebrate National Week of Climate Action, which will run from October 9 to 15.
To qualify to receive the funds, community groups were required to submit a proposal outlining their group's plan and what efforts they were taking to create a green environment in their respective communities.
The successful applicants were Utamo Rose of Stoney Ground, the Rose Hall Cultural and Development organization, Diamonds Village Community Heritage Organization, Barrouallie Heritage Tourism Organization, PADF and the Dickson Community Management Organization.
The JEMS Progressive Organization, which was formed in the south eastern village of Enhams in 1978, was conceptualized with the primary focus area being environmental management.(CM)