Posted on
18 receive certificates in Tailoring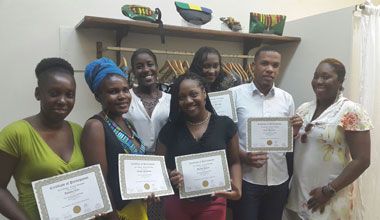 Certificates were awarded to Ashaka Lett, Akisha Henry, Devon Edwards, Kathleen A Bailey, Nefertari Billingy, Rhonique Glasgow, Tevin Burnett and Ikesha Delpesche, who participated in the summer course – The Art of Design, and had completed the Tailoring Foundation Workshop, held from August 19 to August 28 at the St Vincent Girls' High School.{{more}}
The presentation ceremony was held on September 25 at the Cruise Ship Terminal Building.
The tailoring course was conducted by head tailor of Millhouse Menswear – Gregory Mills of Trinidad and Tobago, a graduate of the prestigious Saville Row Institute – London, which specializes in preserving the discipline of bespoke (high end, hand-made) tailoring techniques, made famous in that part of London.
Participants were instructed in advanced hand-stitching techniques used to assemble and finish bespoke suits, including pockets, handmade button holes, pressing techniques, correct use of needle and thimble, and use of industrial machines.
Participants were also treated to a presentation by Coline Baptiste-Mills, head designer and chief creative officer of Millhouse Menswear. The course also included instructions on the design process, including an introduction to draping, fashion illustration, design research and presentation by Vincentian designer Kimya Glasgow.
The course was developed as part of a thrust to support the growth of the local fashion industry. Through education, the aim is to bring the standard of Vincentian production in line with international requirements to aid in the competitiveness of our exports.
Kimya Glasgow expressed her gratitude to Gregory and Coline.
"They have dedicated two years of their lives to furthering their skills; Gregory at the top levels of tailoring and Coline with her Masters degree in Fashion Retail. Having returned to the Caribbean, they have expressed their willingness to share their knowledge and advance the standards of Caribbean fashion and garment manufacturing practitioners. This is a tremendous step for the SVG apparel industry to develop high-demand exportable skills."
According to Ms Fessal of the business support organization, Developing Labs, "We are in support of giving Vincentian practitioners a competitive edge. Part of being competitive, is understanding who the 'Me/We' and 'Them' is in business competition. In small island economies, we have to have to raise our standards and collaborate as a means of competing against competitors with economy of scale."
There will be additional workshops held over the next few months, including further instruction in tailoring.
The course was sponsored and supported by the National Cultural Foundation and Developing Labs, with the support and guidance of the St Vincent Girls High School and the Ministry of Education.