Posted on
Third parties not given level playing field – Anesia Baptiste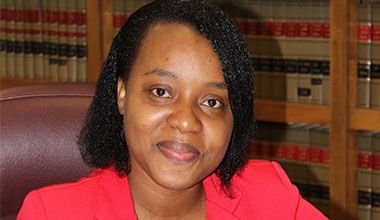 Leader of the Democratic Republican Party (DRP) Anesia Baptiste is of the view that third parties in St Vincent and the Grenadines are not being given a level playing ground on which to compete.{{more}}
During an interview with SEARCHLIGHT recently, Baptiste disclosed that she and leader of the Green Party Ivan O'Neil have been facing much financial strain when importing election paraphernalia, because of a Cabinet Memo which states that their parties are ineligible to receive concessions on duty on election paraphernalia imported into the country.
The two political parties represented in Parliament are the Unity Labour Party (ULP) and the New Democratic Party (NDP).
Baptiste said that Cabinet memo disqualifies third parties from competing on the same level as the two main ones and also is not in the interest of free and fair elections.
"Freeness and fairness of election is not encouraged by those practices of eliminating certain privileges to third parties that the other two political parties have that are represented in Parliament."
Furthermore, the DRP leader believes that this directly interferes with ones right of freedom of association and assembly.
"You cannot dictate to Vincentians that they can't form a third, fourth or fifth party and decide to work it to get into office," Batiste declared.
"There are people who may not want to vote the two traditional parties; you are basically telling them you have no choice and stay at home."
The candidate for West St George also states that she is aware that some persons may want to import items under the guise of having a political party, in order to receive concessions on imported items.
She, however, disclosed that her party has received some level of acknowledgement by the supervisor of elections.
"…As a party we have gone to her, we've presented our party, we have presented our symbol…and they have been sending us schedules for registration of people…in other words there is some measure of formal acknowledgement of us as a party."
Baptiste stated that if her party cannot be given 100 per cent duty free concessions, they could accept 50 per cent, or limit them because of the seniority of the party, but offering them nothing is unacceptable.
"What you have is the perpetuation of this tradition of only two parties that are in Parliament; people would feel that it would never make sense to consider a third," Baptiste stated.
In spite of it all, Baptiste said she does not intend to let it keep her back, as she intends to persevere.