Posted on
LIME, ECMMAN clean up Tululu beach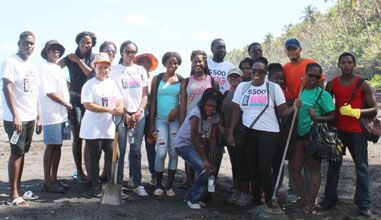 The Tululu beach on the eastern shoreline of St Vincent got a much needed clean-up last Saturday, through the efforts of telecommunications company LIME and the Eastern Caribbean Marine Managed Areas Network (ECMMAN).{{more}}
Tasheka Haynes, project co-ordinator of ECMMAN, said Tululu, which is a secluded beach at North Union, was identified for a clean-up by a community group.
"The beach, though very beautiful, is one of the most polluted on the island. The variation of garbage found on this beach include bottle caps, plastic bottles, pesticides bottles and containers, vehicle parts, refrigerator parts, tyres, electrical appliances, shoes, plastic bowls, household items to even syringes, just to name a few. What we removed on Saturday is frightening. It is disheartening to think that we care so little about our environment and our health, and our hope is to bring to the forefront this escalating problem, in an effort to create a change in attitudes and habits. It is not okay to dispose of garbage in the drains, rivers and streams and we must make a change for the betterment of our country and us," Haynes said.
She praised LIME for working with her group, saying since her first approach to them in early August, they have proven to be great partners.
Marketing manager of LIME Nikala Williams said the work to clean up the beach was very hard labour, but when they look at what was accomplished, LIME will do it again.
"My body still aches all over from shovelling all that garbage, but it was worth it!" Williams said.
ECMMAN has embarked on a public awareness/national pride campaign with the theme "Our Marine Life…It's a beautiful thing". The ECMMAN project has identified a long list of activities that are geared towards protecting and conserving our marine environment, specifically the beautiful south coast of the island and the Tobago Cays Marine Park, but their successful completion is dependent on dedicated partners such as LIME.
Some of the activities ECMMAN has completed so far in conjunction with LIME are a public awareness family movie night, which featured Ponyo and The Big Miracle; a back to school awareness exhibition; a Lion Fish awareness exhibition and sampling; and the most recent the Tululu Beach Clean-up.