Posted on
Calypsonians boycott AGM, president wants out of association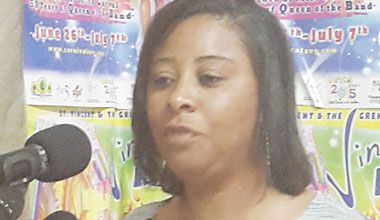 President of the SVG Calypso Association (SVGCA) Ann Miller says she is no longer interested in being a part of the Association as it is "unconstitutional and dysfunctional." {{more}}
The final straw for Miller may have occurred on September 26, following a boycott by some members, of the Association's Annual General Meeting (AGM).
"We didn't have an AGM, but rather a discussion came off as the majority would have boycotted the AGM.
"A boycott doesn't make the president go away. Instead, a boycott just shows, in my opinion, weakness."
Miller made an analogy with the general elections which are constitutionally due in St Vincent and the Grenadines by the end of this year.
"Do you think that if we stay home and boycott that would remove or put a new government in place? No, I don't think so," she told SEARCHLIGHT on Wednesday.
The SVGCA president said the next step would be for the Association's constitution to be amended and registered so that it is ready for whenever elections are held.
Miller said approximately 20 persons attended last Saturday's meeting, including representatives from the various calypso tents.
"I think those persons would have left the meeting with information they knew not about. I think that a few that were there are going to look at the whole association in a different manner," she said, adding that elections could not be held without the two-thirds majority needed to vote.
However, while expressing her desire to distance herself from the Association, Miller said she will not tender her resignation.
"I am going to work until. I intend to assist the person who would succeed me. I would not just want to walk out on the Association.
After the notice of the AGM was published in the media last month, representatives of three of the calypso tents issued a release stating that the AGM had been called by the president without consultation with most of the executive of the Association.
They further contended that meeting was "unconstitutional and wrong" and that no notification was given to the tents about the AGM and that members of the Association only heard of the AGM through the media.
In her response, Miller said it seems to her that the calypsonians wanted a personal letter to be sent to them from the president or the secretary.
"This is modern times. If the secretary sends out a media notice; an email was sent, I cannot see how they can say that they were not notified.
She further stated that the truth is not being told.
According to Miller, some members of her executive have not been performing their duties for years.
She also lamented that tent leaders hardly turn up to meetings, and estimated that within one year, the association has had 10 per cent meetings and 90 per cent discussions.
"…So that's why I say it's not only unconstitutional but it's dysfunctional."