Posted on
25 police officers participate in RSS training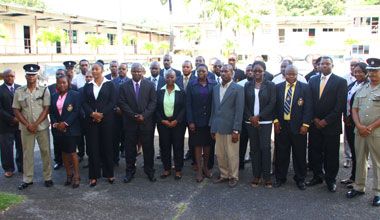 Twenty-five police officers, pooled from various ranks of the Royal St Vincent and the Grenadines Police Force, will soon be better equipped to handle crime scenes, thanks to the Regional Security System (RSS).{{more}}
On Monday, September 28, at the Old Montrose Police Station, the RSS Training Institute officially commenced the Crime Scene Responders Course, under the theme: "Strength through unity."
Delivering welcome remarks, superintendent Kamecia Blake-Byam said in 2009, the RSS conducted a training needs assessment in the seven member states and one area identified by all states was the need for crime scene training management.
"I want to encourage you to absorb as much information as possible, because the dynamics of crime is changing and we must retool and build capacity in our personnel," Blake-Byam said.
She added that when police officers complete the course, their appreciation for forensic and physical evidence and approach to crime scenes will be greater.
"We must recognize that the investigations begin at the crime scenes and your duty as a first responder is to maintain the integrity of that scene until the technicians and investigators arrive. Therefore, our obsolete practices must stop," Blake-Byam added.
In his address, superintendent Glen Paul of the Royal Grenada Police Force (RGPF) said the RSS Training Institute will conceptualize and lead the project, to strengthen regional security, through the development of training and procedures.
He noted that the establishment of the RSS Training Institute, which was formed from their 2010-2020 corporate plan, seeks to standardize training in all RSS members states, allowing for a more structured response to the issue of crime, security and other threats to the region.
Paul told police officers that the aim of the training course is to equip them with the skills and knowledge to function as first responders at the scene of crimes.
"At the end of this training, you will be able to protect crime scenes, collect evidence, maintain the integrity and continuity of evidence. Too many times there is fragmentation in the way we operate," Paul stated.
He implored the officers to embrace the opportunity to develop new skills and improve their existing skills for their own benefit and for the benefit of the organization.
"I look forward to interacting with you as we work towards improving the standard and quality of work delivery, thereby allowing our security forces to respond more effectively to the needs of our citizenry to the benefit of our countries and our region."
He expressed thanks to Commissioner of Police Michael Charles and superintendent Kamecia Blake-Byam for their help in planning the event.
Also sharing brief remarks, Deputy Commissioner Reynold Hadaway said officers must first think about the preservation of a crime scene so that it can be processed sufficiently and in a timely manner, so that evidence left behind by a perpetrator would be gathered.
"You must ensure that the scene is protected and secured as soon as possible. That means that we must get there in a very timely manner. We have heard the cries across the entire nation about police lackadaisical approach…," Hadaway said, adding that the police role is of utmost importance to victims and investigators.
"If we fail to do what is right, we would not be serving the people of this blessed land in the best possible way. We are here to ensure that justice is served and justice must not be denied or delayed unnecessarily and we ought to understand that."
The course comes to a close on Friday, October 2.(KW)