Posted on
Young Vincentian entrepreneurs shine at regional summit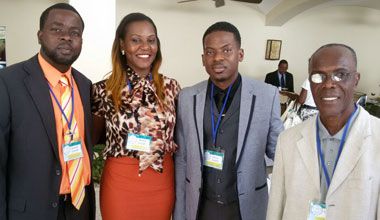 Young entrepreneurs from across the Eastern and Southern Caribbean were encouraged to dream big, take risks, and affix their "brand" onto the world stage at the opening ceremony of the Caribbean Youth Entrepreneurship Summit (C-YES) at the Courtyard Marriott Hotel in Hastings, Barbados, on September 24.{{more}}
The United States Ambassador to Barbados, the Eastern Caribbean, and the OECS, Dr Larry Palmer, delivered remarks at the opening ceremony and congratulated over 21 young entrepreneurs who showcased business ventures, including jewelry handcrafted by survivors of abuse and domestic violence, image consulting, computer animation, cosmetic production, and food goods.
"These 21 entrepreneurs represent what you can achieve when you are willing to follow your dreams, take risks, and work hard. I encourage each and every one of you to keep up the hard work and to support the next wave of entrepreneurs that will follow in your footsteps," Ambassador Palmer said. "Entrepreneurship plays a critical role in tackling youth unemployment and catalyzing economic recovery and development. For this reason, the United States Government, through the United States Agency for International Development, is making significant investments in youth entrepreneurship and education."
Ambassador Palmer said he is looking forward to seeing regional entrepreneurship expand to the point where some entrepreneurs can be featured on TV shows like Shark Tank, the popular North American entrepreneurship reality programme.
Underscoring the United States Government's commitment to regional youth empowerment, the Ambassador said that the USAID-funded Youth Entrepreneurship Program for the Eastern Caribbean (YEPEC) supported over 1,500 businesses, provided loans to 69 businesses, and created 175 jobs. Ambassador Palmer observed that YEPEC had also strengthened the capacity of Youth Business Trusts in Barbados, Dominica, and Trinidad and Tobago, while creating a new trust in St Vincent and the Grenadines.
Following the opening ceremony, USAID Eastern and Southern Caribbean Mission director Christopher Cushing reiterated USAID's support to regional youth empowerment and entrepreneurship in its 2015-2019 strategy.
St Vincent and the Grenadines was represented by Malika Joseph, who owns and operates Push Fitness, which is a new way of "whipping" yourself into shape using spin cycles. She was nominated for the Start-Up Entrepreneur award. The second delegate was Petrus Gumbs, who is the founder and director of the STEMSVG summer programme here in St Vincent and the Grenadines. This programme was nominated for the Social/Environmental Entrepreneur award and the Technology Entrepreneur award. The delegates were accompanied by Kenrick Quashie and Dr Reynold Murray, chairperson and director of Youth Business St Vincent.
"Youth have an innovative and creative spirit that they bring to everything that they do. When this approach is taken toward entrepreneurship, they are not only helping themselves, they are generating income for their communities and employment for others. Entrepreneurship and small businesses are the engines of an economy, so it is gratifying to be able to support youth entrepreneurs in particular," Cushing said.
The US$2 million three-year YEPEC programme expands access to entrepreneurial support activities for young people throughout the Caribbean, while developing the capabilities of Youth Business Trusts.