Posted on
Parents of delinquent students should be jailed – Rock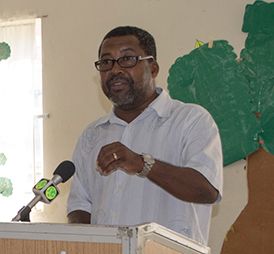 "I say you should lock up parents for not sending school children… There must be some accountability from the parents… Lock them up I say!"
This was the unwavering view of Leroy Rock, a zonal coordinator within the Adult and Continuing Education (ACE) Unit, in response to the issue of student delinquency in schools across St Vincent and the Grenadines.{{more}}
Rock was speaking at a presentation yesterday, which saw a group of 22 participants being the first Vincentians to receive Caribbean Vocational Qualification (CVQ) certification.
"I recognized there are a lot of children in communities who are not going to school," he explained. "I am serious; I hope that the Government moves swiftly and [does] something to make sure that the parents are accountable. There are a lot of parents who are keeping home the kids, and for no reason – in terms of no economic reason!"
Rock recalled that he had recently learnt of a 13-year-old student, who is supposed to be attending the Intermediate High School, but is instead presently employed at one of the supermarkets in Kingstown.
He also noted that when confronted about their children's delinquency, many parents say that they refuse to go to school, and nothing they (the parents) do can change that.
"How a child could tell a parent… that they not going to school? I think it is time for the Government to lock up parents in St Vincent and the Grenadines!"
Frances Palmer, director of the ACE Unit, also attended the event, and agreed that in order to curb the issue, the Government needs to implement serious measures against parents who don't enforce their children's attendance at school.
"Parents should be held accountable. We would have to decide, as a community, what sanctions we are going to give them; but they should be held accountable. Maybe a fine on the first offence and so on," explained Palmer.
"We need to do something because there are too many (delinquent students), especially boys… They should be in school. We can make education compulsory up to at least 18… It's not helpful for the society." (JSV)