Posted on
ECTEL makes donation to Dominica relief efforts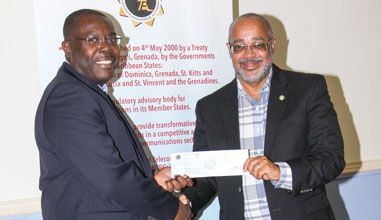 The Eastern Caribbean Telecommunications Authority (ECTEL) has made a monetary contribution to assist the Commonwealth of Dominica in its relief efforts, in the aftermath of Tropical Storm Erika, which ravaged the Member State last month.{{more}}
Chair of ECTEL Board of Directors Isaac Solomon handed over the cheque for EC$15,000 to director general of the OECS Commission Didacus Jules on Friday, September 25, during the 72nd meeting of the Board.
In presenting the cheque, Solomon noted that though it is a modest sum, ECTEL felt compelled to make the contribution to assist in the relief efforts, after the Commonwealth of Dominica was so badly affected by Tropical Storm Erika.
"For us in the OECS we have always had a strong sense of community, so whenever disaster strikes, whether we have or don't have, we always find a way to try to assist; so when we understood that our colleagues in Dominica were significantly affected by Tropical Storm Erika and subsequent heavy rains, we felt compelled to come to the assistance of our brothers and sisters in Dominica," Solomon said.
In accepting the cheque, OECS director general Didacus Jules noted that it was not "the size of the sum, but the spirit behind it."
Jules was also full of praise for what he described as the tremendous outpouring of solidarity for Dominica from across the OECS, noting that all the governments have been contributing, giving what they can. The OECS Commission is playing a leadership and coordinating role in mobilizing emergency relief supplies for the people of the Commonwealth Dominica, following the passage of Tropical Storm Erika.
Tropical Storm Erika struck the Commonwealth of Dominica on Thursday, August 28, causing widespread damage and destruction.