Posted on
CLSS Young Leaders: the dangers of being a digital citizen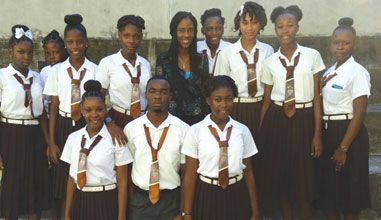 by Vakeesha John
The Central Leeward Secondary School Young Leaders' Group wishes to remind persons, especially students, about the dangers involved in being a digital citizen. Being a digital citizen simply means that you are a part of this new technological era. However, persons must not strive to explore every possible risk that the Internet and media bring, but must always seek knowledge and guidance in order to be RESPONSIBLE DIGITAL CITIZENS.{{more}}
With regard to a recent incident here in SVG, where students were seen in videos engaging in sexual activities, the group believes that it is important that students know the effect of these actions. These videos were allegedly recorded by other students and were posted to Facebook and other social media sites. These videos were not only accessed by locals, but also by the regional and international world.
Bearing in mind that this year's RBC Young Leaders theme was "Digital Citizenship – Responsibly Navigating Technology", the young leaders believe that young persons must use the Internet wisely in an attempt to avoid these very critical cases. It may seem "fun" or "okay" for persons to strip others of their dignity and pride online, but these actions reflect the persons' (who advertise such videos) characters as well. In one of Tarrus Riley's songs, called "Microchip", he says "In this new age, don't bow to technology and confuters. Because the microchip is going to chip and fail you, and bring you straight forward to creation." Do you really believe that technology fails us, having been readily available to post naked pictures, erotic videos and other inappropriate content? Or do we fail ourselves and the system when we blatantly ignore all that we've been taught and still go ahead to violate someone's character?
The young leaders do not condone the actions of the students in the videos, but also express their greatest disappointment in those who seemed to be delighted to publish them. Do we still care about the effects of such publications? Are we not remembering the number of young persons that attempt (and in some cases commit) suicide? Can we afford to lose more of our young people in this way, when they do not know how to cope with these situations? We need to forget about hatred, revenge, adventure and remember words like love, friendship and respect.
The group informs that they will indeed be following through with some of their plans made during the competitions and have handed over vouchers that grant free Internet for six months to five students of the school on Monday, 28th September, 2015. They hope that these students use the Internet responsibly, as it is a great facilitator of good academics. They also wish to remind other young leaders that the task of educating the public on technology doesn't end after the competition, but must be lifelong duty. "We need technology. We need it. But it needs us: to be careful, to be responsible and to be aware when exploring any form, whether being social media or any other form of technology." Those were the words of Javel Turtin, this year's most Outstanding Young Leader and also the president of the Central Leeward Secondary School Young Leaders Group. The group was and still is governed by the theme: "Sailing through the ocean of technology, using the paddles of education and responsibility."