Posted on
Trinity hosts historic White Coat Ceremony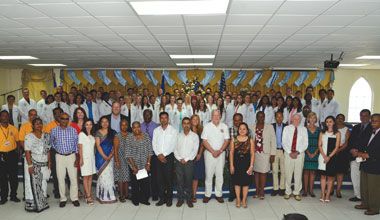 Seventy-five medical students with their short, white coats folded over their arms made their way into the Faith Temple Church at New Montrose, St Vincent and the Grenadines on Saturday, September 5, to participate in Trinity School of Medicine Class of 2019 White Coat Ceremony. Twelve pre-medical students were also among the new members of the student body.{{more}}
Presiding at the ceremony was dean Dr Douglas Skelton. Among the audience were the Minister of Health, Wellness and the Environment Clayton Burgin; representatives of the Calliaqua Police Station, who had been very helpful to the community at Trinity: assistant superintendents Sydney James and Anthony Humphrey; station sergeants Hezron Ballantyne and Cheryl James; Trinity faculty; the Trinity Welcoming Committee and the staff of the Deanery.
Amidst the obvious air of expectancy and excitement, all were welcomed by Sir Frederick Ballantyne, Governor General. In summing up the nobleness of the students' chosen profession, Sir Frederick encouraged them with the words of Dr Tinsley Harrison, whom he described as one of the most eminent American physicians, and for years the lead author of textbooks on internal medicine.
He restated, "No greater opportunity or obligation can fall to the lot of a human being than to be a physician." He told of the technical skill, scientific knowledge and human understanding that would be required of each of them; the unique service each would provide for his/her fellowmen; and of the "enduring edifice of character" that will be built within each student, once he/she uses courage, humility and wisdom.
Then, in an atmosphere rich with anticipation and excitement, president of Trinity Steven Wilson rose to address the gathering. He welcomed all, thanking especially the parents for making the trip to SVG to lend support to their children. He assured all that Trinity will do everything to make sure that the young men and women get all the way through safely and also get whatever they need. "But they will still be the ones to make it happen," he reminded them. He went on to introduce a presentation by students of the graduating Class of 2015 who had summed up, in a video, their experiences from their White Coat Ceremony to graduating into residency.
These young doctors described a range of emotions.
"When I first started I was so nervous, apprehensive, scared, excited," one MD explained. "I was ecstatic because I always wanted to be a physician," another expounded. The faces of the future doctors showed that they were identifying with the sentiments expressed by the new doctors. The graduates went on to deliver profound words of advice, specifically touching on areas like cultivating study habits, establishing priorities, Trinity faculty/student relationships, fostering interactions with the locals, forming friendships with colleagues. In outlining how he coped, one doctor stated, "Anything you needed, they were just an email or phone call away. The fact that it was a small school meant that we knew everybody and everybody knew us; and I think that was really a valuable thing to have. Everybody is really vested in how well you do, so everyone's there to help you 100 per cent."
The impressive presentation had the audience upright in their seats, hanging onto every word, and so too Dr Paula Wilson, who rose to give the history of the White Coat ceremony. She outlined how Dr Arnold Gold conceived of a ceremony to capture medical students' obligation to patients and the human side of medicine, upon the commencement of the study of medicine, and why students wore the shorter coat. She was solemn, yet profound, when she stated that the coat placed on each student's shoulder was a testimony that the faculty at Trinity knew that they had faith and confidence that each student "will be that kind of human physician from Day One."
Dr Frances Jack, associate dean of students, was no less confident in the students. As she brought greetings to all, she expressed her delight in seeing so many new faces, stating how much she looked forward to meeting each student. "Your determination and dedication has brought you success and we are honoured that you have chosen Trinity to guide you along this path," she said.
Then the most impressive moment arrived, when the 75 students stood to be robed by faculty and then congratulated by the Governor General. The atmosphere was rife with pride in achievement and expressions of expectation could be seen on the faces of the students. Each was now ready to take on the journey towards becoming powerful, professional, altruistic physicians.
Dean Skelton brought the ceremony to a close with words of good wishes and invited students and their relatives to a reception on the island resort of Young Island. Students were given the opportunity to meet faculty individually and to mix and mingle with their classmates.