Posted on
Youth employment is SVG's biggest problem – Eustace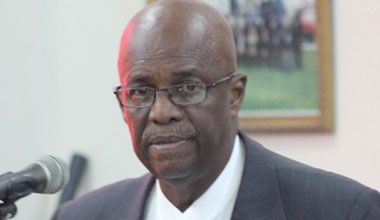 According to the Leader of the Opposition, the "most pressing problem" that faces the citizens of St Vincent and the Grenadines (SVG) currently is unemployment – especially amongst the youth.{{more}}
Speaking at a New Democratic Party (NDP) political rally last Sunday, September 13 at Campden Park, president of the party Arnhim Eustace said that the Government is not being honest about the rate of unemployment being at 21 per cent.
"It's plenty more than that. Everybody knows it's plenty more than that. My own estimate of youth employment is actually in excess of 50 per cent!" Eustace emphasized.
He promised that once the NDP is elected to power in the upcoming general elections, he will be focusing on drastically reducing all unemployment, by addressing the numerous issues that afflict all sectors of society and the economy.
"There is no point training, saying you have education revolution, and then people home for six years afterwards – can't get a job," he observed.
Addressing the audience, Eustace also criticized the way the Government is handling many of the various sectors; including agriculture, tourism, the private sector, crime prevention/national security and education, among others.
"We have to encourage investment in our country, in all the various sectors… whatever it is, [it] employs people."
Eustace also criticized the Youth Empowerment Service (YES) Programme, which he claimed only pays participants $400 a month, and doesn't provide a permanent solution to unemployment.
Describing the current administration as "ignorant", he said: "What they are very good at is corruption; moving money in a way which will not benefit the people of St Vincent and the Grenadines… but I am heartened by the fact that they ain't have long to go. We will take the reins, and we will improve the position of all the people in our country… This team here can do much better than they can!"
Eustace also noted that throughout the Caribbean, people are becoming more concerned about the way in which governments run their respective countries' economies, and are voting out administrations which are not benefitting citizens.
"You have election in Antigua, the government gone. You had election in St Kitts/Nevis, the government gone. You had election in Guyana, the government gone. You had election in Grenada, the government gone. And a few days ago, you had one in Trinidad, and the government gone. So when ours come just now, the government gone!" (JSV)