Posted on
Sweet-I goes off to college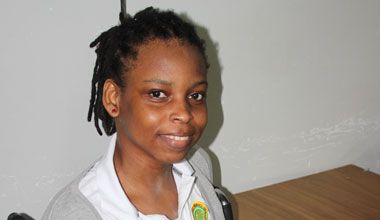 "This is really a dream come true for me. It's a different environment and I am still getting adjusted to it," Robertson told SEARCHLIGHT on Wednesday by telephone.{{more}}
She will pursue advanced level studies in English Literature and Sociology.
While a secondary school student, Robertson was injured in 2009 on her way home
from a school function one fateful October night, when she was caught in the crossfire between two rival gangs.
The former star athlete, who has been confined to a wheelchair since being shot, wrote five CSEC subjects in 2011 and gained four passes – including a grade 1 in Mathematics.
Sweet-I jokingly said one of her biggest challenges now is the fact that she has to wake up earlier to go to school, since one of her classes begins at 8 a.m.
On a school day, Sweet-I takes a taxi from Chateaubelair to Villa and back, at a cost of $100 return, an expense she said her mother, Claforna Robertson and sister have to foot.
However, Robertson only attends school three days per week, since she does not have classes on Friday and gets notes by email for the classes that take place on Thursday.
She further revealed that either her mother or sister will make the journey to school with her on different days and will stay at the college until all her classes conclude.
"I know it's a bit hard, but I will adapt to it in time," she chimed.
She revealed that it is somewhat difficult to keep abreast of the work, since some of the textbooks required for her classes are not available at the bookstores, leaving her to do most of her research online.
One thing Sweet-I dislikes about her new environment is the snickering that goes on behind her back and people's ignorance about her condition.
"They wouldn't talk to me that much or they go talk behind my back and talk to somebody else about me. They don't exactly try to find out my condition or anything like that," she said, adding that she has become accustomed to the whispers.
Sweet-I, who hopes to go on to university to read for an undergraduate degree in psychology, said one of her main goals is to give back.
"I just want to come and give back, so that I could help people faced with my condition or similar. I just want them to have a positive outlook on life," she said firmly.
Sweet-I's sister, Racquel Robertson, told SEARCHLIGHT that Sweet-I is a hard worker and appealed to the public for help in sourcing the school books.
In 2013, Prime Minister Dr Ralph Gonsalves, after reading about Sweet-I's plight in a December 2012 article in SEARCHLIGHT, put in place a number of systems to make the young woman's life more comfortable.
The 22-year-old is the recipient of public assistance to the tune of $1,000 monthly, through the Government, National Lotteries Authority and the National Insurance Services. She continues her therapy on a weekly basis at the Milton Cato Memorial Hospital in Kingstown and has home help care provided by the Government. A new house was also built for Sweet-I and her family, a gift from the Government of St Vincent and the Grenadines. (KW)